Home > Corporate Data > CSR Activities > Responsibilities as a Member of Society > Communicating with the Public
Communicating with the Public
DBJ believes that today's social and environmental problems can best be resolved by communication and the exchange of opinions. Accordingly, the Bank strives to communicate with as many people as possible through seminars, symposiums and lectures.
1. Communication Focused on the Environment
Environmental problems such as global warming must be resolved, starting with individual awareness of the severity of the issue.
DBJ promotes understanding of the relationship between the environment and financial and business activities by participating in the Eco-Products exhibit, Japan's largest environmental event, and holding seminars and symposiums in conjunction with relevant organizations.
2. Communication with Local Communities for Revitalization
DBJ considers working with local citizens to build communities that suit each region an important part of supporting independent community development. To this end, the Bank holds seminars and symposiums in collaboration with local authorities and universities.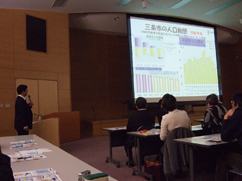 3. Communication in International Cooperation
Overview of International Cooperation Activities
In cooperation with the Japan Economic Research Institute, DBJ shares with developing countries, particularly in Asia, the experience that it gained in the supporting the industrial economic development of post-war Japan through policy-based financing, as well as experience gained in more recent years, such as policy issues involving economic measures and the urban infrastructure development. For example, DBJ has held its Developmental Finance Course 39 times since 1967, which has been attended by 346 people hailing from more than 30 countries. Fiscal 2008 marks the 40th such event. In addition, the Bank supports the efforts of individual finance development institutions, such as the China Development Bank and the Development and Infrastructure Bank of Malaysia. In 2007, the Bank signed a cooperative agreement with the Vietnam Development Bank, and has begun a bilateral exchange of opinions based on this agreement. Applying this experience and learning, DBJ expects to provide the intellectual support needed for solutions to the problems faced by other development finance institutions.
Partnership
In addition to responding to direct requests for technical assistance from developing countries and countries that are moving to market-based economies, DBJ works through the World Bank and other international institutions. We also share knowledge through Japanese organizations, such as the Overseas Development Agency and other support-oriented agencies.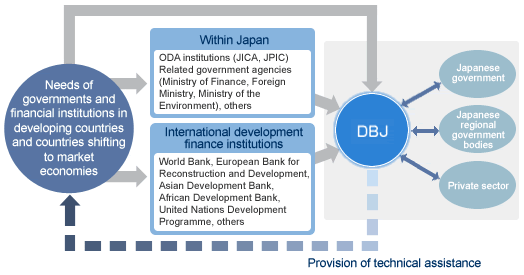 Past Research
In addition to the development finance resarch mentioned above, each year since 1997 the Bank has sponsored an event in tokyo for countries that are making the shift to market-based economies.
Principal Research
| Name of Course | Location | Start | Days | Participatign Countries |
| --- | --- | --- | --- | --- |
| Development Finance Course | Tokyo | 1967 | 10 days | India, Indonesia, Costa Rica, Cote d'Ivoire, Singapore, Thailand, Turkey, Hungary,j Fiji, the Philiippines, Brazil, Bulgaria, Vietnam, Peru, Malaysia, Mexico, South Korea, China, South Africa |
| Shifting to a Market-Based System | Tokyo | 1997 | 10 days | Cambodia, Laos, Myanmar, Vietnam, Uzbekistan, Kazakstan, Kirgiz, Mongolia |
I addition, DBJ conducts a host of overseas seminars in various countries (click here for details).