Home > Financial Services > Financing > Medium- to Long-Term Loans > Case Study: Financing Employing Environmental Ratings
Case Study: Financing Employing Environmental Ratings
Characteristics of Financing Employing Environmental Ratings
Preferential interest rates on financing available according to an organization's environmental rating (environmentally responsible management evaluation)
Evaluate from a neutral standpoint in accordance with global trends
Screening sheet containing 120 questions developed based on the exchange of information with the United Nations Environment Program (UNEP) Finance Initiative and Japan's Ministry of the Environment
Ratings conducted through interviews with clients
Extensive evaluation experience
More than 100 ratings conducted since introducing the system in 2004
Expertise with a wide range of clients
Clients include manufacturers and non-manufacturers, from medium-sized companies with close regional ties to megacorporations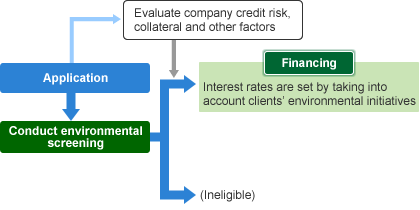 Benefits of Environmental Rating
Through interviews conducted during the process of acquiring environmental ratings, clients receive objective evaluations, providing them the following benefits.
Employ more advanced and improved environmental measures
Clearly explain environmental measures to stakeholders
Examples of activities with companies achieving some of the highest rankings are described below
Daikin Industries, Ltd.
As one of the world's foremost manufacturers of air conditioning equipment and a leader in fluorine chemistry, Daikin aims to achieve a top position in the prevention of global warming.
Evaluation Points
Strong environmental performance, with greenhouse gas emissions (CO2 equivalent) down 70% compared with 2001 levels
Although falling outside the requirements of Japan's Electric Household Appliance Recycling Law, the company took the environmentally conscious and industry-leading initiative of establishing a recycling system for commercial air conditioners
Evaluation Results
The company achieved the highest-level ranking, exceeding 200 evaluation points, earning it a special award. DBJ and the Bank of Tokyo-Mitsubishi UFJ arranged a joint loan.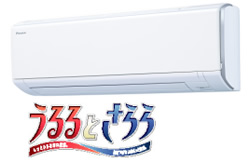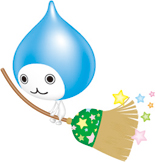 Ube Industries, Ltd.
Ube Industries, an early proponent of environmental measures, began employing the so-called "Ube method" in 1949. The company has built a solid awareness of its environmental management efforts among stakeholders living in nearby communities.
Evaluation Points
Technical prowess in environmentally friendly products that contribute to material and chemical recycling, through proprietary technologies involving the production of colored recyclable resins and the gasification recycling of waste plastic
Keenly interested CO2 emission reduction targets
Evaluation Results
Daikin received a top-level ranking during DBJ's first year of offering environmental ratings. In 2008, the company was the first comprehensive chemical manufacturer to receive a special prize. Such awards attest to the company's ongoing efforts to reduce its environmental impact, making use of the interest rate subsidiary system based on environmental ratings.*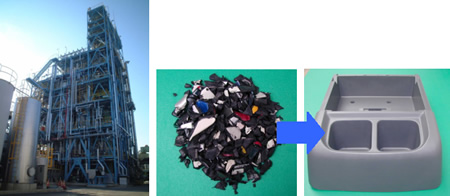 Overall use of a chemical recycling plant that employs a pressurizing two-stage gasification process, pulverized bumpers prior to recycling and post-recycling products (console boxes)
※Interest Rate Subsidiary System Based on Environmental Ratings
Clients that have received DBJ environmental ratings and that have pledged to reduce their per-unit CO2 emissions by 5% or more within five years are eligible for an additional 1% reduction in interest rates on funds to be applied toward efforts to reduce global warming.