Home > Financial Services > Financing > Project Financing / Structured Finance > Case Study: Haneda Airport International Passenger Terminal PFI Business

Case Study: Haneda Airport International Passenger Terminal PFI Business
The maintenance and management of Tokyo International Airport's international terminal buildings is assigned as a financially independent PFI operation by the Japanese government. Under the national expansion operations for Tokyo International Airport (Haneda Airport), this work spans the design, surveillance, management and maintenance of the international passenger terminal building and parking and other facilities for passengers and customers. This is the first case of improvements to a national core transportation infrastructure being handled as a PFI.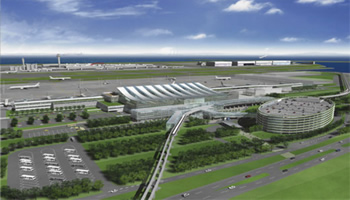 This business is conducted by Tokyo International Air Terminal Corporation (TIAT), which was established by and utilizes the expertise of airline companies with a grasp of passenger needs, terminal management operators that specialize in international terminal management and corporations responsible for transport access to the airport. This should lead to the provision of faster, more convenient, safer and more comfortable services.
The DBJ Initiative
DBJ, in collaboration with Mizuho Corporate Bank, Ltd., and Bank of Tokyo-Mitsubishi UFJ, Ltd., is acting as the lead arranger for project finance for this PFI business. We have constructed a flexible finance scheme, attuned to changes in aviation and commercial demand and other trends, that provides business support from operational start-up through the longer term (up to 30 years).