Home > Resolving Customer Issues > Business Expansion > Real estate development
Real estate development
In addition to corporate loans, DBJ offers a wide range of financing schemes, including securitization techniques, to help customers develop and leverage their real estate holdings, such as through liquiditization. Developing and leveraging idle real estate offers significant advantages in terms of customers' management strategies, such as enabling them to improve their operating foundations, procure capital by liquidizing owned property, move assets off the balance sheets to improve ROA, and avoid risks connected with real estate holdings.
DBJ's real estate development and liquidization program is for customers who
aim to diversify risk by developing operations with risk profiles outside those of core operations;
are considering considering real estate development projects, but want to keep these activities off their balance sheets;
are reviewing such options as selling assets or purchasing or refinancing balance sheet real estate holdings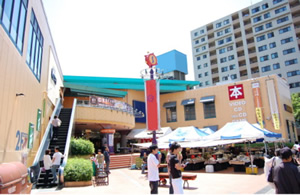 Case Study
Urban Renewal Fund AKIHABARA UDX
DBJ established this fund with the participation of multiple financial institutions, using capital raised for the mezzanine financing of blue-chip projects.