Home > Resolving Customer Issues > Business Expansion > Real estate development > Case Study: Urban Renewal Fund AKIHABARA UDX
Case Study: Urban Renewal Fund AKIHABARA UDX
Since the beginning of the new millennium, the promotion of urban renewal has been one of the government's highest priority policy concerns, with the rejuvenation of "Electric Town," the highly appealing and world-famous Akihabara district of Tokyo, receiving particular attention. In 2001, the city of Tokyo announced its Akihabara District Development Guidelines, which aim to create a high-value-added business market and global center for IT-related industries in Akihabara. Based on these guidelines, AKIHABARA CROSSFIELD was constructed using city land in front of Akihabara Station and consists of two skyscrapers, the Akihabara Dai Building and AKIHABARA UDX, which contain showrooms, multi-function event halls, digital workshops and other IT-related facilities as well as quality office space, are destined to become the centerpiece in urban development project excellence.
Under the leadership of the NTT Urban Development Co., and the Kajima Corporation, fundraising for the AKIHABARA UDX construction project was conducted via real estate non-recourse financing, a little-used method at the time, facilitated by the newly established project entity UDX special-purpose company, which used project earnings power as a guarantee to raise funds.
DBJ established this urban renewal fund with investments from multiple financial institutions to provide mezzanine financing for urban revitalization projects, with AKIHABARA UDX as the first project.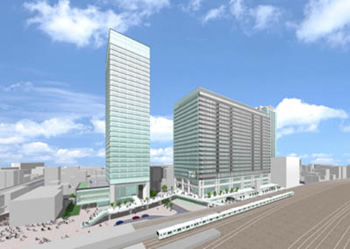 The DBJ Initiative
Financing for this project via the urban renewal fund in 2003 came primarily from domestically issued bonds, financing provided by financial institutions and low investment risk senior financing. Repayment of mezzanine financing is subordinate to repayment of senior financing, and depending on its use in a particular project, the sponsor's capital liability is reduced and linked to a smooth supply of senior financing and increased financial leverage, with an expected increase in the investor's reserve capacity. At the same time, because there are construction and future business-related risks, a mezzanine finance market for the real estate development business did not exist.
Establishing this fund with the participation of multiple financial institutions, and for the first time using its capital for mezzanine finance in this blue-chip project, DBJ expanded the traditional financial framework by introducing this new financing method and its aggressive involvement in creating and cultivating a mezzanine finance market. At present, there are many financial institutions entering the mezzanine finance market to pursue opportunities and meet needs in the Japanese real estate finance market.