Home > Resolving Customer Issues > Business Expansion > Technical development and transformation
Technical development and transformation
DBJ's financial services help customers expand their businesses over the medium to long term by allowing them to develop proprietary technologies and expertise, as well as to commercialize technologies as manufacturing and services businesses.
DBJ's technology development and innovation program helps customers
employ proprietary technology and expertise to improve and generate further growth in manufacturing, sales and service businesses;
obtain financing to commercialize proprietary technologies and expertise, as well as build associated infrastructure; and
receive guidance and mentoring to determine their level of technical competitiveness and formulate strategies for growth.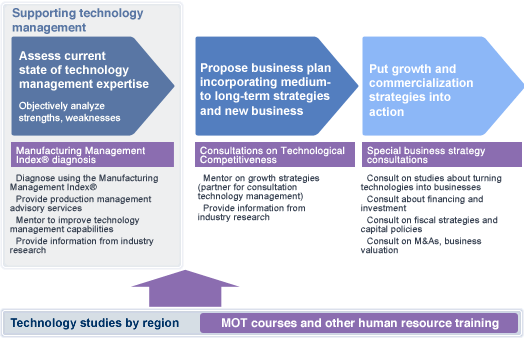 Case Study
Itoh Precision Co., Ltd.
With the aim of enhancing Itoh Precision's production management capabilities, DBJ implemented a technical management skills diagnosis employing a Manufacturing Management Index® diagnosis, taking into overall account improvement measures from the standpoint of management strategy.