Home > Resolving Customer Issues > Strengthening the Financial Base > Crisis management and response
Crisis management and response
In addition to helping businesses create countermeasures to hedge against disaster and provide contingency financing to help recover their operations in the event that they are affected by disaster, DBJ assists companies from a continuing business standpoint. We help with a full range of disaster preparedness, from the formulation of business continuity plans to the earthquake-proofing of facilities and preparation of IT backup systems. At the same time, DBJ provides new financing methods to assist the recovery of disaster-struck businesses. In FY 2006, DBJ inaugurated a financing method employing a comprehensive method of rating disaster preparedness.
The system involves a combined disaster rating and financing plan. Under this system, clients self-assess corporate plans for dealing with disasters. Preferential interest rates on financing are set based on rating results.
In addition to documentation, the assignment of ratings is based on interviews conducted directly between DBJ and the client discussing disaster preparedness.
The program uses a proprietary DBJ method of rating disaster preparedness that is based on a self-assessment of corporate plans for dealing with disasters formulated by the Central Disaster Planning Committee of the Japanese Cabinet Office (described in Japanese at http://www.udri.net/portal/kigyoubousai/jikohyouka-no1.pdf). Through the clear reinforcement and an objective third-party evaluation of a company's disaster preparedness, the system is designed to reduce internal barriers to implementing disaster countermeasures. Companies can also use the results of their evaluations in corporate publicity, such as news releases and on websites, outlining their disaster preparedness initiatives.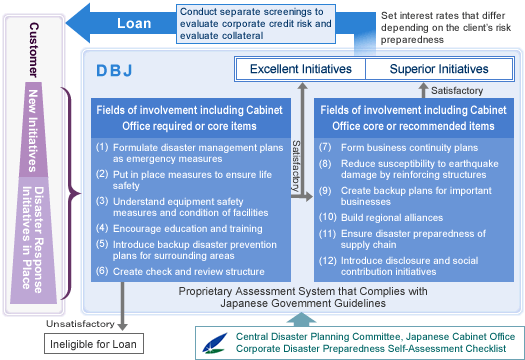 Case Study
Okuwa Co., Ltd.
DBJ conducted a disaster preparedness loan rating to promote Okuwa's disaster prevention management.

NRS Corporation
DBJ injected equity and fortified the capital position of NRS Corporation, which forms the backbone of the group, and spurred group restructuring. In addition, we worked cooperatively from finance through business aspects of the group's operations, formulating a business continuity plan (BCP) between NRS and DBJ, along with the Japan Economic Research Institute (JERI)