Home > Resolving Customer Issues > Strengthening the Financial Base > Crisis management and response > Case Study: Okuwa Co., Ltd.
Case Study: Okuwa Co., Ltd.
Based in Wakayama City, Okuwa develops supermarkets and shopping centers in the Kinki Region of Japan. Given that its business is to offer essential products to people living in the region, the company treats contributing to the region as part of its mission and is thus heavily involved in disaster planning. In 2005, the company established a project team that answered directly to top management.
This team conducted a wholesale investigation of disaster planning in the event of an earthquake in the Nankai and East Nankai regions. The investigation covered four primary topics: buildings and infrastructure, insurance and capital, IT and crisis management. As part of its companywide initiative, Okuwa conducted a risk assessment on a store-by-store basis, which allowed it to devise a plan to maximize cost-effectiveness.
In addition, the company rewrote its corporate disaster management manual and implemented an action plan checklist for its departments.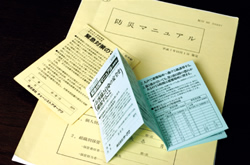 The DBJ Initiative
DBJ conducted a disaster preparedness loan rating to promote Okuwa's disaster prevention management. At Okuwa, these plans chiefly consisted of earthquake reinforcements to its buildings, as well as building redundancy into its IT system connections. Implementation is anticipated to further improve Okuwa's disaster response, enabling the company to continue supplying needed products to customers throughout and ensure customer safety in the event of a disaster.