Home > Resolving Customer Issues > A Sustainable Social Structure > Environmental measures > Case History: JCF/JGRF
Case History: JCF/JGRF
Japan's First Emissions Trading Fund
The Kyoto mechanisms, as defined by the Kyoto Protocol, are designed to make the reduction of greenhouse gas emissions more efficient. At the heart of this system is the Clean Development Mechanism/Joint Initiative (CDM/JI), which allows developed nations to use technology support or loans to reduce greenhouse gas emissions in developing nations as credits toward domestic targets.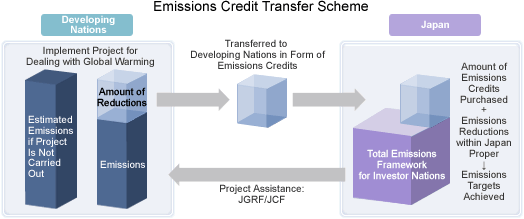 In 2004, DBJ inaugurated the Japan Greenhouse Gas Reduction Fund (JGRF), the first Asian emissions trading fund, through the cooperation of 32 companies, including Toyota, Sony and Tokyo Electric. We set up Japan Carbon Finance, Ltd. (JCF) to operate this fund.
JGRF and JCF leverage to the fullest DBJ's knowledge and experience in fund operations, as well as its knowledge and experience in private-sector businesses' reductions of greenhouse gases. To date, these organizations have assembled an extensive portfolio of contracts to acquire emissions rights in China, India and elsewhere in Asia, Latin America and Africa.
Advantages of Using JGRF/JCF
Employs specialists with expertise in country risk and construction risk
Diversifies risk over investments in multiple projects
Emissions Risk Intermediation
DBJ acts as an intermediary on behalf of investment banks, emissions rights funds and other customers that are considering the acquisition of emissions rights. Our involvement helps smooth the process of reducing emissions volumes.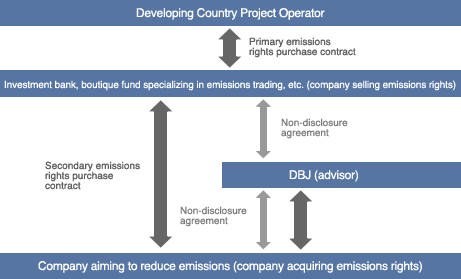 Advantages of Using DBJ
Proposals are based on information from multiple information channels.

Through its experience in setting up and operating Japan's first emissions trading fund, DBJ has developed a broad-ranging network it brings to bear when making proposals.

DBJ acts as the customer's representative in adjusting contracts and negotiations.

DBJ handles the necessary contractual adjustments and negotiations on behalf of its corporate customers.

Hassles involving contractual procedures and fund operations are reduced.

We help generate the documents that are needed to conclude such contracts.