Message from the Chairman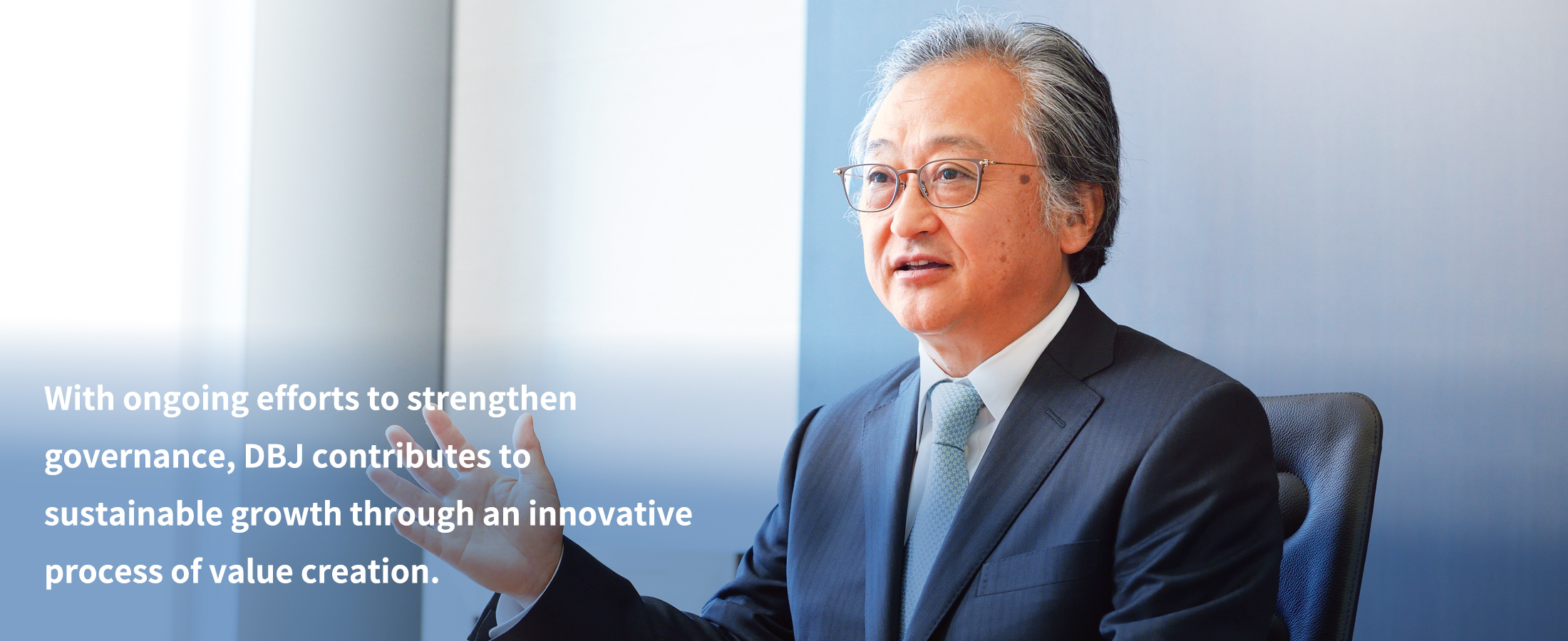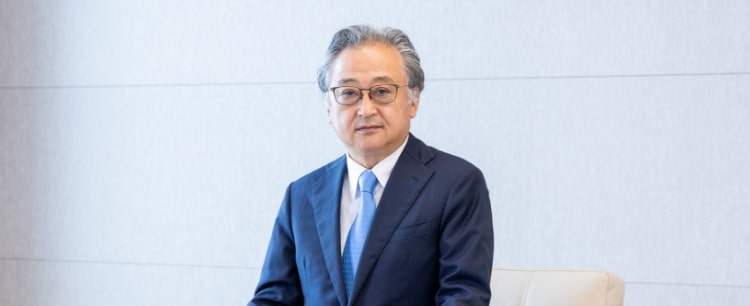 Creation of a Unique Business Model
The DBJ Group practices sustainability management in accordance with the Development Bank of Japan Inc. Act, balancing economic and social value with the aim of building a sustainable society. We supply risk capital to forward-looking initiatives through our Special Investment Operations program and collaborate and cooperate with private financial institutions to stimulate new flows of risk capital in Japan. DBJ's investments and loans in new fields help strengthen Japan's economic competitiveness. We also address local issues through risk capital supplied through joint funds created with regional financial institutions.
Furthermore, DBJ functions as an emergency supplier of capital for responses to natural disasters and other crises. In times of international financial turmoil, and following the Great East Japan Earthquake, the Kumamoto earthquakes, and other events calling for rapid influxes of capital, DBJ has been there to provide relief.
In response to the damage caused by the COVID-19 outbreak, the DBJ Group opened consulting service counters in January 2020 and moved forward with its unique Regional Emergency Response Program in February. Then, in March, when the Japanese government designated the COVID-19 pandemic a crisis, we concentrated on Crisis Response Operations as a designated financial institution.
Governance Suited to Our Unique Business Model and Dialogue with Stakeholders
In order to continue playing this unique role, DBJ must have robust corporate governance, ensure transparency in management, and consider the opinions of outside experts. To promote this aim, we have created the Operations Audit Committee, the Compensation Committee, and the Personnel Evaluation Committee as advisory bodies to the Board of Directors. Listening to the views of our stakeholders is imperative to strengthening this framework.
It is essential that DBJ collaborate and cooperate with private financial institutions in an environment of fair competition. We hold regular events for this purpose, usually twice a year, involving discussions with representatives of such institutions. We have also created the Special Investment Operations Monitoring Board as an advisory body to the Board of Directors. The board meets twice a year to discuss and evaluate the status of the bank's business performance, as well as its complementing and encouraging of private business and maintenance of proper competitive relationships.
The opinions we obtain through social events with private financial institutions and the outcomes of deliberations by the Special Investment Operations Monitoring Board are debated by the Advisory Board, an advisory body to the Board of Directors comprising outside experts and directors in fields including manufacturing, infrastructure, regional communities, and finance. The Advisory Board provides valuable ideas on matters concerning the safeguarding of proper competition with private financial institutions and the DBJ Group's management plans. In my view, a distinct aspect of corporate governance at the DBJ Group is its continuous reassessment of its unique value creation process while engaging in dialogue with diverse stakeholders.
Living up to the trust placed in us by society, we want to keep our initiatives one step ahead of the times, especially in regard to the supply of risk capital, and this means ensuring that we operate in conformity with the Companies Act. For this purpose, the Board of Directors formulated the Basic Policy for Internal Control, which positions legal compliance, risk management, and internal audits as important issues for management.
A Value Creation Process That Balances Economic and Social Value
Given the adoption of the Sustainable Development Goals (SDGs), the Paris Agreement, and other recent developments, the DBJ Group established the Sustainability Committee to deal with the growing need to review corporate management from a sustainability standpoint. The Sustainability Committee discusses changes in social issues and other matters important for management. In fiscal 2019, directors engaged in lively debate on the Group's initiatives related to energy, climate change, and the SDGs. In fiscal 2020, deliberations have focused on medium- to long-term issues on the global agenda, such as ESG matters and building of a sustainable society, while monitoring the impact from COVID-19.
To realize a sustainable society while balancing economic and social value, the DBJ Group offers solutions to issues faced by society and the our customers. The Group has continued to create innovative business models, centered on the supply of risk capital, in an effort to advance sustainability management and maintain a balanced value creation process. As the social significance of balancing these two types of value increases, we will continue making every effort to engage in dialogue with our diverse stakeholders and ensure robust and effective corporate governance, based on the notion that nothing is more important than embodying best practices that will continue to earn us the trust of our customers and society.
Chairman
August 2020