Development Bank of Japan Inc. (DBJ; President and Chief Executive Officer: Toru Hashimoto) will soon be inviting applications for the 3rd New Business Plan Competition for Women Entrepreneurs. Candidates will compete for monetary prizes and support services to assist them in turning their business plans into functioning enterprises.
The DBJ Women Entrepreneurs Center was launched in November 2011 as a platform from which to support women working to start or develop a new business. The Center provides qualified entrepreneurs with resources including funds and business skills and business matching. Among its most important projects is the Women's Business Plan Competition which DBJ has held annually since its establishment.
The 3rd DBJ Women's Business Plan Competition will start in December of this year. Candidates will compete for a DBJ Women Entrepreneurs Grand Prize and other incentive prizes, as well as post-competition support, provided in cooperation with outside entrepreneurs and other professionals, that will help them acquire the skills needed to turn a business plan into a going concern. Applications will be accepted from December 16, 2013 through February 28, 2014.
On December 17, interested prospective applicants are invited to attend an Opening seminar on the 3rd DBJ Women's Business Plan Competition. Details of the seminar will be posted on the DBJ website as soon as they are prepared.
Application Guidelines for the 3rd DBJ New Business Plan Competition for Women Entrepreneurs
1. Eligibility
Plans will be accepted for women-run businesses which are innovative - offering original technologies, services, or business models, or promising high added value - and show outstanding potential for commercial growth. Both first-time entrepreneurs and those who are starting a second business (either in a different business category or as a start-up) are eligible.
2. Prizes
There will be two prizes: the DBJ Women Entrepreneurs Grand Prize and the DBJ Women Entrepreneurs Prize. Winners will receive business incentive funds - up to 10 million yen for the Grand Prize winner and up to 5 million yen for the Entrepreneurs Prize winner - and one year of mentoring to maximize their chances of success.
3. Schedule
(1) Acceptance of business plans:December16 (Monday), 2013 - February 28(Friday), 2014
(2) 1st selection (inspection of documents): Early-to-late March, 2014
(3) 2nd selection (interview): Early April - Early May, 2014
(4) Final selection (presentations): May 29(Thursday), 2014
(5) Announcement of winners & Awards Ceremony: Late June, 2014
4. Application flow
Applicants are asked to submit an Application form, Executive Summary, and Business Plan. Please see the Application Guidelines (PDF) for details.
Note that it may take some time for the PDF file to load.
■Final Selection Panel for the 3rd DBJ New Business Plan Competition for Women Entrepreneurs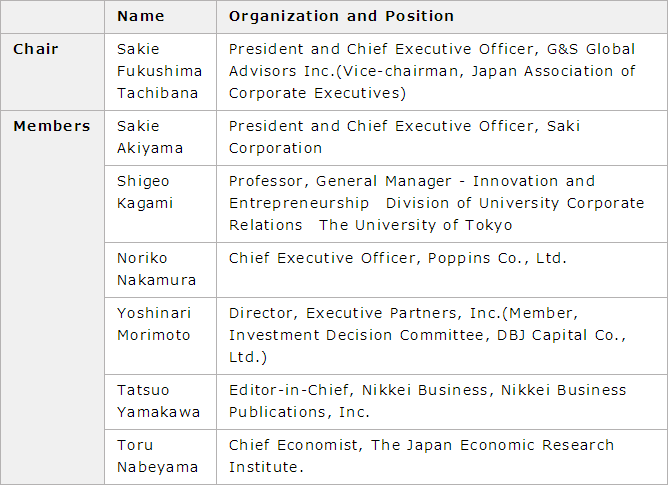 Providing aspiring businesswomen with integrated support is in keeping with the DBJ corporate philosophy: "Applying Financial Expertise to Design the Future."
Inquiries:
DBJ Women Entrepreneurs Center Corporate Finance Department, Division 6 Telephone: +81-3-3244-1652