Development Bank of Japan, Inc. ("DBJ") and BUSINESS FINLAND OY ("Business Finland") signed a memorandum of understanding with the aim of promoting cooperation between companies in both countries. This is the first time a Japanese financial institution is forming a business alliance with Business Finland.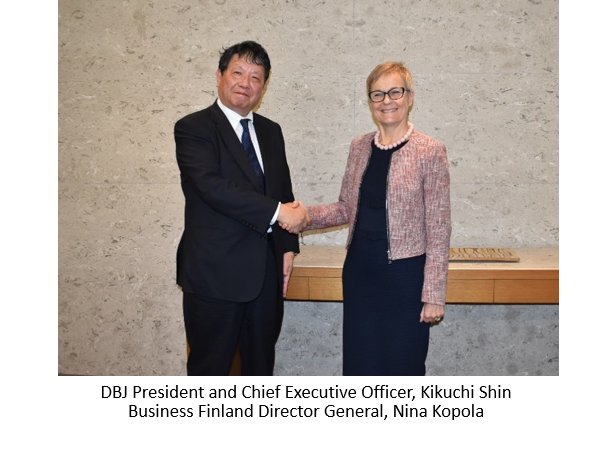 The Republic of Finland is actively works on the creating innovation ecosystems through collaboration between industry, government, and academic institutions, and creating environment enabling advanced demonstration experiments. The country was ranked 6th in the world in the 2019 Global Innovation Index. Recently, Finland has placed particular focus on the fields of healthcare, 5G, and smart cities, all of which have huge potential for collaboration in line with Japan's "Society 5.0".

Business Finland is a government organization under the Finnish Ministry of Economic Affairs and Employment and it aims to promote Finnish innovation funding, trade, investment, and travel. It is headquartered in Helsinki and has about 40 international offices and 20 within Finland.

This agreement was concluded celebrating this year's 100th anniversary of diplomatic relations between the two countries. Utilizing DBJ's extensive industrial network and finance knowledge and Business Finland's innovation ecosystem, the two parties will contribute to the creation of joint-innovation, promoting collaboration between companies and sustainable growth in their respective countries.

Based on the corporate philosophy "Designing the future with financial expertise" DBJ is committed to actively supporting innovation in Japan and the Republic of Finland.


【Contact】
Business Planning & Coordination Department   Tel. 03-6311-5048