その他の刊行物
Symposium on the Environment and Sustainable Development:
Roles for Japan with Regard to Global Environmental Issues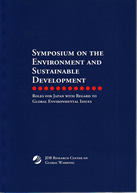 JDB Research Center on Global Warming (ed.)
1996 / 11 The Japan Development Bank / Not for Sale
Foreword
On November 10, 1995, the JDB Research Center on Global Warming, with joint sponsorship by the Japan Economic Research Institute, organized a symposium at Keidanren Kaikan, Tokyo on the subject of the 'Environment and Sustainable Development: Roles for Japan with Regard to Global Environmental Issues'. The symposium was attended by over four hundred participants from a wide range of professional backgrounds including corporate management, government officials, and academic scholars.
The purpose of this symposium was to express and exchange views on the interplay between the environment and the economy, particularly the Japanese economy, in the coming decades. The panelists included a host of prominent economists deeply concerned with the intricate relationship between the environment and economic growth. The exchange of views which took place at the symposium was positive and has contributed to a better understanding of the problems we presently encounter.
The large and diversified attendance at the symposium clearly reflects a growing awareness of the importance of the environment, particularly global environmental issues, at all levels of corporate management and governmental policymaking. The symposium was also a timely occasion since Japan now faces new challenges in establishing her priorities in the global economy in the twenty-first century.
The JDB is particularly grateful to those prominent economists who made such an invaluable contribution to the symposium, thereby making this publication possible.
Research Center on Global Warming, RICF
The Japan Development Bank