Home > Corporate Data > About DBJ / Privatizing DBJ > Corporate Philosophy
Corporate Philosophy
Corporate Philosophy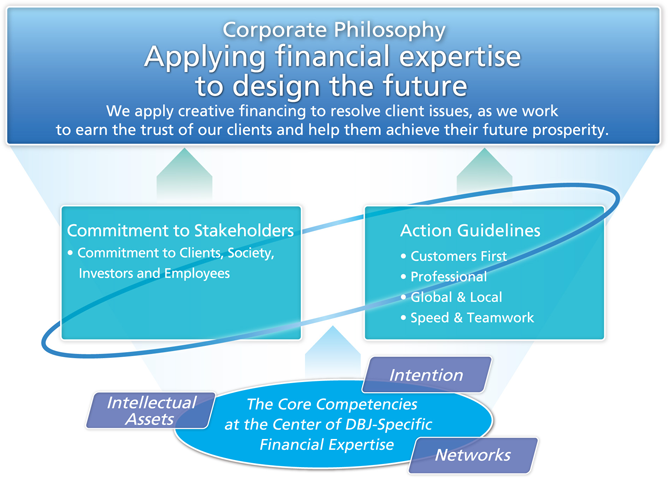 The Core Competencies at the Center of DBJ-Specific Financial Expertise
Intention

DBJ's fundamental stance is based on sharing with its clients a long-term perspective, neutrality, public-mindedness and reliability.

Intellectual Assets

Intellectual assets is a catch-all that refers to the abilities—to think ahead, make discerning judgments and introduce new financial technologies—that we have built through our experience in applying our industry, analytic and R&D expertise.

Networks

DBJ enjoys trust-based networks with clients, as well as partners among regional governments and financial institutions.
Action Guidelines
Customers First

Take a customer-based perspective, face up to our own problems and share our successes and joys

Professional

Hone our skills and faculty for judgment, aiming for a unique existence

Global & Local

Maintain a long-term, fair outlook, which is in step with the times, takes a global perspective and embraces local communities

Speed & Teamwork

Build customer trust through swift and sincere actions that optimize our strengths as a team
Guidance for Management
For Customers

Raise economic and social value for customers by applying our financial strength, drawn from the "Three Ws," to problem-solving

For Society

Contribute to the realization of a more abundant, sustainable society in terms of the environment, the economy and beyond

For Investors

Realize highly transparent management and raise corporate value from a long-term perspective

For Employees

Share our corporate philosophy, cultivate human resources with high ethical standards and create a refreshing workplace environment