Structured Finance
About Structured Finance
Structured financing comprehensively defines financial projects including project financing, object financing, securitization and PPP/PFI.
The benefit for customers includes the potential for large-scale financing and risk control by using financing methods that focus on cash flows generated from assets or target projects.
Since its privatization (incorporation) in October 2008, DBJ has been maximizing its unique characteristics and providing various financial products and optimal financing methods in Japan and abroad (senior loans, mezzanine loans, equity, etc.) to address the numerous needs of Japanese client companies that are aiming to diversify and globalize their operations. We are providing all-out support for our clients.
Project Financing
By leveraging our abundant experience in the fields of energy and infrastructure, we provide support to clients for financing and risk control through financing arrangements that rely on cash flow, mainly in the case of large-scale projects, but not on specific corporate creditworthiness or collateral value. In recent years, in addition to project financing arrangements and financing operations for domestic renewable energy power generation facilities—solar power generation and biomass power generation—we have been actively carrying out financing of overseas energy and infrastructure projects.
Scheme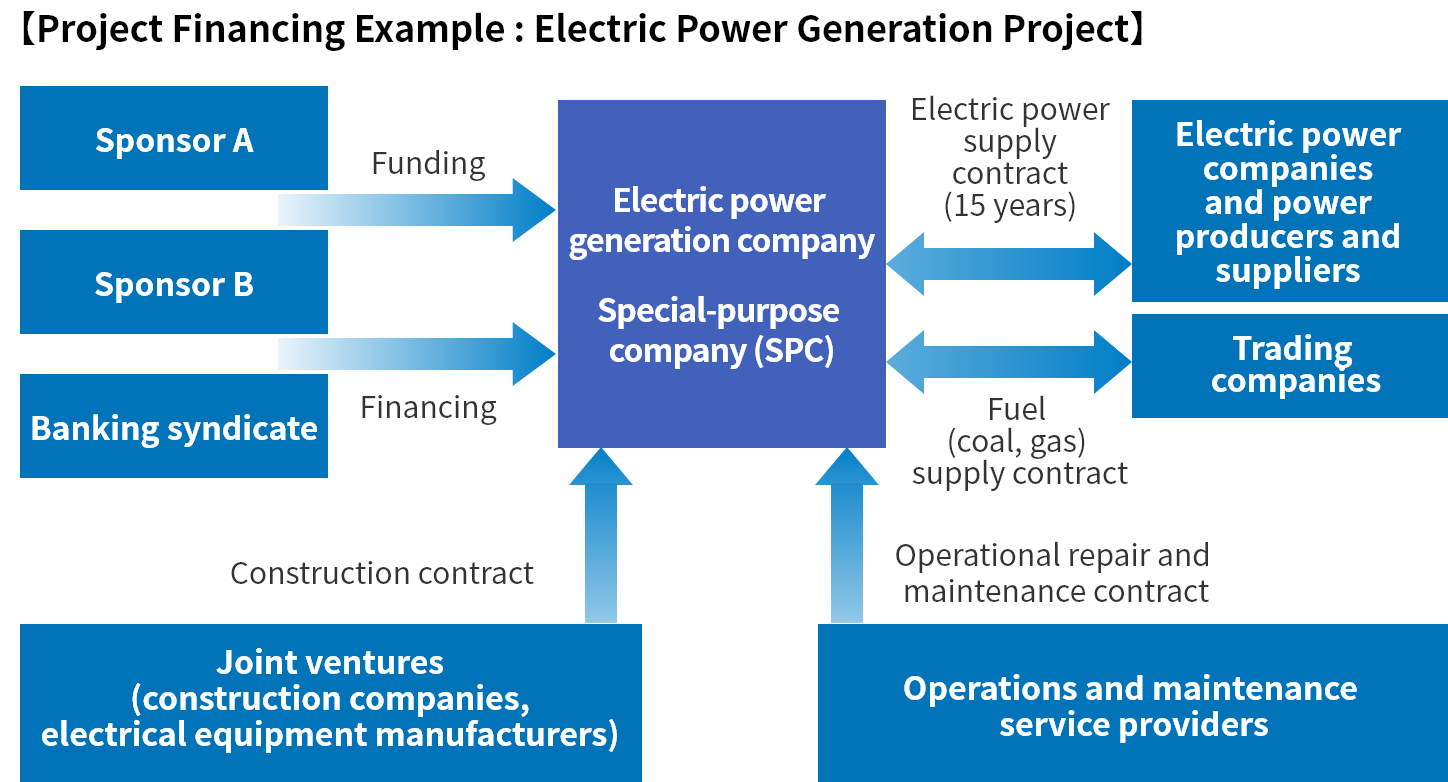 Object Finance
DBJ addresses clients' financing and risk control needs by providing optimal financing methods that take advantage of the cash flow generating characteristics of assets with special features, such as ships, airplanes, and railcars.
Securitization
DBJ supports the realization of client financial strategies and optimal financing through arrangements such as liquidation and securitization of receivables, focusing on their future cash flows, and through whole business securitization in which debts are repaid through future cash flows generated by a particular business.
About DBJ Securities Co., Ltd.
PPP/PFI
Since the enactment of the PFI law in 1999, DBJ has built up its private finance initiative track record and undertaken PFIs as a leading player in the industry. In recent years, DBJ has been accumulating experience implementing PFI in airport concession projects. Through these activities, DBJ has been accruing knowhow while using its strong ties with the public sector to support its customers in Japan and abroad.
* Act on Promotion of Private Finance Initiative