Home > Corporate Data > About DBJ / Privatizing DBJ > Top Message
Top Message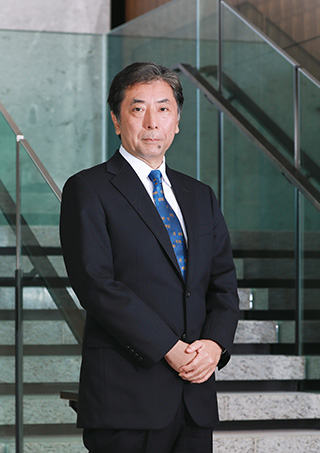 Issues Japan Faces and DBJ's Role in Resolving Them
The Japanese economy continued to benefit from a tone of gradual recovery in business conditions, as higher corporate earnings in fiscal 2015 offset signs that the purchasing mood of consumers had stalled. However, a number of challenges remain. The country continues to face increasingly intense global competition and must deal with issues related to the renewal of aging domestic public infrastructure and to energy, regional revitalization, a shortage of risk capital and fund management opportunities, and other concerns. Against this backdrop, the Act for Partial Amendment of the Development Bank of Japan Inc. Act came into force last year. We maintained our direction toward full-scale privatization under the amended act, while firmly cementing Crisis Response Operations to deal with any large-scale disaster or economic crisis that occurs and directing efforts toward new Special Investment Operations, which provide intensive growth capital designed to revitalize regional economies and increase corporate competitiveness.
Accordingly, while our three-year Third Medium-term Management Plan—which moves into its final year in fiscal 2016—is fundamental to the role we must fulfill, we will consistently engage with diverse financial players to create a smoothly functioning market as a provider of both risk capital anchored in the real economy (capital funding such as mezzanine financing and investment, long-term funding for infrastructure and other projects, and the stable provision of funds that will drive the growth of Japanese enterprises) and original knowledge (knowledge services that leverage experiential knowledge), and strive to resolve the issues facing Japan from a long-term perspective, in line with the intent of the act and other requirements.
Specific DBJ Initiatives
In our Third Medium-term Management Plan, we identified four primary areas requiring particular attention: growth support, infrastructure and energy, regional revitalization tailored to regional needs, and strengthening the safety net.
To start, in the area of growth support, we are offering even greater assistance to promote initiatives that help companies hone a sharper competitive edge by providing risk capital through Special Investment Operations, for which we made investment and loans decisions valued at approximately ¥100 billion in fiscal 2015. In the infrastructure and energy area, we are supplying funds for the reconstruction of the energy supply system to better address the energy issues that have emerged since the Great East Japan Earthquake. Regarding regional revitalization tailored to regional needs, we are taking a fine-tuned approach geared to each region, including the establishment of funds with regional financial institutions and other investors to support tourism and local business growth. In the area of strengthening the safety net, crisis countermeasure loans reached an aggregate level of about ¥5,600 billion, as of March 31, 2016, and, in collaboration with regional financial institutions, we also launched a successor fund to the Great East Japan Reconstruction Fund that provides risk capital to fuel reconstruction and growth in the region affected by the Great East Japan Earthquake and its associated disasters. In addition, in the wake of the Kumamoto earthquakes in April 2016, we responded with all our effort, quickly setting up the Kumamoto Recovery Office inside the Kyushu Branch and also working with local financial institutions, establishing a restoration and reconstruction fund and pursuing other avenues of support to stimulate restoration and reconstruction in areas that sustained damage.
The Third Medium-term Management Plan also lays out three functions—risk-sharing with banks and other organizations, the provision of opportunities for fund management by investors, and extension of knowledge beyond the financial sphere—that DBJ must demonstrate through initiatives in the four operation-oriented primary areas of the plan.
In risk-sharing with banks and other organizations, we seek to execute suitable distribution of risk among ourselves and other financial institutions, businesses and investors and respond both to the diverse capital needs of enterprises and to other market demands through access to equity, mezzanine and long-term loans and other high-risk capital. In the provision of opportunities for fund management by investors, we are keen to contribute to a more robust financial market environment by providing regional financial institutions, pension funds and other investors with quality fund management opportunities, such as co-investment in syndicated loans and overseas private equity funds. In extension of knowledge beyond the financial sphere, we draw on a nonaligned network and industry survey capabilities to provide reports on specific regions, industry sectors and business circles, and other subjects as well as quality knowledge from a long-term perspective, including advice, to support clients in their efforts to pinpoint and resolve pressing issues.
Meeting Our Corporate Social Responsibilities
We will embark on our Fourth Medium-term Management Plan next fiscal year. Under the new plan, we will naturally work to reinforce the initiatives pursued during the Third Medium-term Management Plan and build on the cooperative relationships we have with private financial institutions and other organizations. At the same time, we will strive to further develop human resources with an enhanced ability to provide sophisticated financial services and, as a cohesive corporate group, always listen carefully to our clients and understand their needs. As these activities unfold, we remain committed to our trifecta of financial products and services—loans, investments and advisory services—and will leverage our expertise to achieve both economic value and social value as well as contribute to sustained growth in Japan.
July 2016



Masanori Yanagi
President and CEO
Development Bank of Japan Inc.