GRESB
GRESB (formerly known as "Global Real Estate Sustainability Benchmark") is an industry-driven organization that assesses the ESG performance of real assets and infrastructure globally. The GRESB Assessments collect information regarding the sustainability performance of companies, funds and assets, including information on performance indicators, such as energy, GHG emissions, water and waste. The Assessments are guided by what investors and the industry consider to be material issues in the sustainability performance of real asset investments. For more details about GRESB, please click on the GRESB's official website.
DBJ has been involved with GRESB since October 2014, when it became the first Japanese investor member, and since September 2016 been appointed to the first Japanese member of the GRESB Advisory Board.
(As of 30 September 2019)
| | |
| --- | --- |
| Number of assets | 44 |
| Certification Vintage | 2018-2019 |
Case Study No.1
*

The most recent rating available at the time of the disbursement.
Example of Property in the Portfolio
Property Summary
Oriental Hotel Fukuoka Hakata Station (the property) is located next to a traffic circle in front of JR Hakata Station and directly connected to Hakata Subway Station by underground passage which provides easy access to Fukuoka Airport. Further attractiveness and convenience are secured because of recent renovation of station square and the openings of several commercial facilities in the Hakata Station area.
When replacing the main facilities such as electricity, heating and cooling systems at the time of the renewal opening, special consideration was given to energy saving and environmental performance. For example, it switched from central air-conditioning to individual air-conditioning systems in order to enhance hotel comfort, which is expected to save significant energy. In addition, various measures were taken to reduce water, light and heating consumption, such as introduction of LED lighting throughout the building and introduction of water-saving equipment.
Property Profile
| | |
| --- | --- |
| Name of Property | Oriental Hotel Fukuoka Hakata Station |
| Location | Fukuoka City, Fukuoka Prefecture |
| Site Area | 2,163.42m2 |
| Floor Area | 18,105.42m2 |
| Structures and Stories | SRC/12 stories above ground with 3 stories below ground |
| Construction Completion | July 1985 |
| URL | Detail of the property |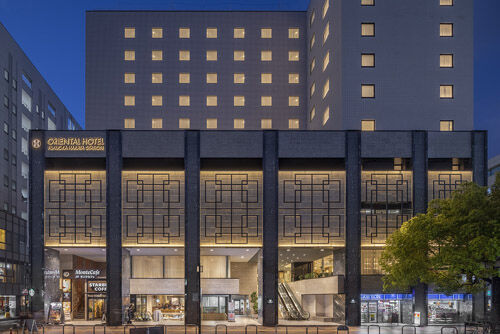 Case Study No.2
*

The most recent rating available at the time of the disbursement
Example of Portfolio Properties
Property Characteristics
The property has excellent access to the city center and the eastern part of the Tokyo metropolitan area, and can be used as a wide-area distribution base including the Saitama area. It is located where smooth employment can be secured in Chiba City, where population centers are formed. It has five stories, adopting a double ramp-way structure, with a maximum floor area of about 23,100 m2 and a minimum lease area of about 4,300 m2; so, it can meet a variety of tenant needs.
The property introduces the "Lumiqs Mesh Network System", LEDs with sensors that light up in response to the movement of people and forklifts, jointly developed by Prologis Group and IQ Japan Co., Ltd. The system enables significant reduction in power consumption: it reduces average power consumption by 56% compared to the use of standard LED lighting, and by 81% compared to fluorescent lighting (experimental value). In addition, by introducing multiple amenities such as a cafeteria, meeting rooms for rent, bicycles for sharing, and a 24-hour convenience store with unmanned cash register, along with BCP facilities and features such as emergency generators and satellite phones, it realizes a space with both comfort and safety.
Property Profile
| | |
| --- | --- |
| Name of Property | Prologis Park Chiba 1 |
| Location | Chiba City, Chiba Prefecture |
| Site Area | 66,117.49m2 |
| Floor Area | 138,547.18m2 |
| Number of Stories | 5 |
| Construction Completion | September 2019 |
| URL | Detail |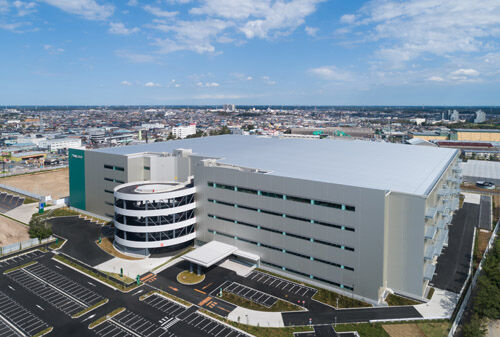 Related information