Home > Financial Services > Advisory Services > M&A Advisory Services
M&A Advisory Services
Upward trends in Mergers & Acquisitions(M&A) activities underpinned by recognition of M&A as a method for entering into promising new businesses or growth markets, industry restructuring, is likely to continue.
The framework for addressing unique challenges and the successful execution of M&A transactions realizing all possible synergies requires superior problem solving capabilities in terms of not only economic considerations but also in the social and organizational characteristics of affected parties, conflicting interests of stakeholders and an understanding in legal & financial framework. DBJ locates well experienced M&A professionals within the Business Development Department and offers comprehensive M&A advisory services to best achieve the clients' desired outcome.
Strategic Consulting
Analysis on Business Strategies
DBJ supports clients in analyzing complex strategies, business planning and assists in the decision making by leveraging the knowledge we have cultivated through many years of providing investment, financing and project support.
Neutral and Fair Advices
DBJ provides fair and reliable advice aimed to enhance clients' corporate value by utilizing DBJ's neutrality.
Extensive Information Network
DBJ maintains access to major corporates located both locally in Japan and globally. This extensive information network is established through our strategically located offices including our offices across Japan through to our overseas subsidiaries. DBJ have access to an information network including over 80 regional banks together with global business partnerships between accounting firms・legal firms・financial institutions・investment funds・government-affiliated organizations. Such relationships enable DBJ to provide timely and accurate information to meet clients' needs.
Overview of M&A Advisory Services
DBJ offers a wide array of M&A advisory services across all phases of the transaction, from the early stage investigation (consulting) and selection of optimal partner (match-making) through to the valuation of target assets, negotiations with the counter party and the deal implementation (execution).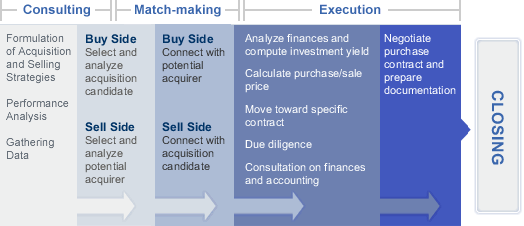 M&A Related Financing
DBJ assist M&A activities by providing the funds necessary for merger or acquisition (such as take-out financing)