Home > Financial Services > Advisory Services > Practical Application Support Center for Technology
Practical Application Support Center for Technology
DBJ established the Practical Application Support Center for Technology in February 2004 to help medium-size companies realize their potential for the commercialization of successfully developed technologies. The role of this center is to diagnose whether companies have the management strength (technology management expertise) to turn their technologies into products. We also provide mentoring, business planning and other advice and technology management training, and support medium-size companies in the development of new value. DBJ works with regional financial institutions, local government bodies, universities, economic organizations and industrial support bodies to aggressively promote the expertise offered by the Practical Application Support Center for Technology, helping to raise regional industrial competitiveness.
Characteristics
In addition to evaluating companies' abilities to manage technologies and products, we support the development of appropriate long-term strategies based on objective information obtained via our extensive networks.
We provide additional evalutions based on our expertise in operational screening, and through consultation on financial strategies help clients consider optimal long-term strategies.
From the perspective of providing neutral and specialized business plans, we aim to be a partner that client management can consult on any topic related to manufacturing management. By providing integrated expertise in this way, we help clients raise their corporate value and contribute to the development of the Japanese manufacturing industry.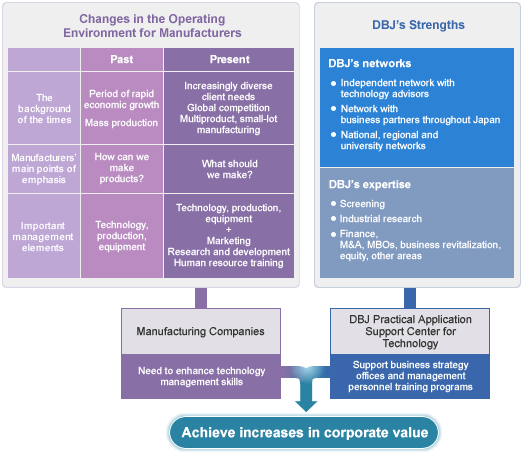 Example of Services Provided
We developed the Manufacturing Management Index® to assist in making appropriate decisions involving technology management expertise from the neutral standpoint of a financial institution and bring strengths and weaknesses into the open.
The Manufacturing Management Index® consists of approximately 100 factors, such as quality, cost, delivery times, technological responsiveness and management capability. The index provides an objective picture of the connection between a company's technical operations and its management structure, as well as unique business model characteristics.
The Manufacturing Management Index®

The target company's technical management capacity (management capacity to turn technologies into products) can be evaluated through a two-hour management interview and a one-hour factory tour.
A DBJ-developed model indexed by quality, cost, delivery, technological response and management capacity assesses companies relative to other companies in their industries.
Cautions
* Consult DBJ for details of specific procedures, costs and other aspects of each service. Please be forewarned that depending on the type of business and the nature of such consultation, we may not be able to respond.
* Provision of and transactions for other services, including loans and client introductions, by DBJ or other financial institutions ("Finance Loans and Other Services") are not guaranteed. Moreover, use of these services is not a prerequisite or condition for Finance Loans and Other Services.
Case Study
Itoh Precision Co., Ltd.
With the aim of enhancing Itoh Precision's production management capabilities, DBJ implemented a technical management skills diagnosis employing a Manufacturing Management Index® diagnosis, taking into overall account improvement measures from the standpoint of management strategy.