Home > Financial Services > Financing > Asset-Based Lending (ABL)
Asset-Based Lending (ABL)
About Asset-Based Lending
Asset-based lending (ABL) is a method of financing that uses as collateral a company's liquid assets, such as aggregate movable property, inventory collateral and receivables.
1.Benefits
More diverse funding methods: expeditious fund-raising
Provides a way of shifting the balance of debt
Sale of surplus inventories (by raising the quality of its existing inventories, a company can aim for higher profitability)
Strengthens and enhances internal control systems
2.Scheme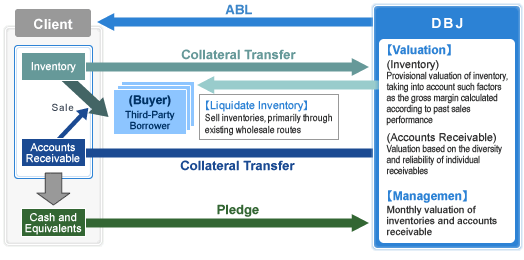 3.Procedures
Determine collateral value of customer's inventories (on-site inspection, etc.): Valuation
Review financing based on valuation results
Provide financing, transfer collateral
Regularly provide information on movable assets
DBJ's Services: From Financing Corporate Revitalization to Providing Growth Capital
As a frontrunner in corporate revitalization financing, DBJ developed an asset-based lending (ABL) scheme to support companies, while at the same time securing their debts. Going forward, we plan to apply this expertise to develop ABL schemes that provide companies with growth capital.
1. Valuation of principal collateral
Use inventories as principal collateral for companies that are revitalizing their operations or experiencing difficult business conditions
3. Collaboration with Gordon Brothers of the United States
In July 2006, we collaborated with Gordon Brothers of the United States to jointly establish Gordon Brothers Japan Co., Ltd., the first company in Japan to concentrate fully on inventory valuation and disposal.
Case Study
Plant Co., Ltd
DBJ helped Plant raise the stable, long-term capital it needed to fulfill its fiscal strategy for sustained future growth.

Nakamura Jozo Co., Ltd.
In Nakamura Jozo's case, the Bank provided DIP financing using the company's inventory of unpasteurized soy sauce as collateral.