Home > Financial Services > Financing > Debtor-in-Possession Financing
Debtor-in-Possession Financing
Non-performing loans emerged as a major problem beleaguering the Japanese financial system in the late 1990s. Against this backdrop, DBJ has developed a host of tools to help underperforming companies sustain or develop profitable areas of operation.
DIP Financing
1. DIP Financing (Early Stage)
DBJ is a proponent of debtor-in-possession (DIP) financing. This temporary financing method provides working capital that allows a company in bankruptcy to continue operations during the period between a request for the application of Civil Rehabilitation Law and the approval of rehabilitation plans, thereby sustaining the valuable parts of its operations.
2. DIP Financing (Later Stage)
Provide the funding that is needed to implement restructuring plans
Provide medium- to long-term financing to fund capital investment under different conditions than revitalization plans that are being implemented
Refinance debt of an organization that is under rehabilitation, providing exit financing more quickly than is possible via the legal liquidation process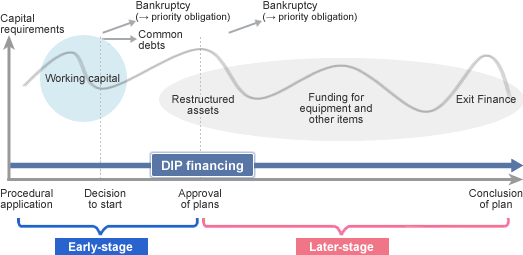 Case Study
Nakamura Jozo Co., Ltd.
In Nakamura Jozo's case, the Bank provided DIP financing using the company's inventory of unpasteurized soy sauce as collateral.