Home > Financial Services > Financing > Certification Programs > DBJ Environmentally Rated Loan Program
DBJ Environmentally Rated Loan Program
In June 2001, DBJ became the first Japanese bank to sign the UNEP Statement by Financial Institutions on the Environment and Sustainable Development. In addition, DBJ signed the Principles for Financial Action towards a Sustainable Society (Principles for Financial Action for the 21st Century). In these ways, DBJ supports the environmental management of companies by finance in order to realize the sustainable society.
About DBJ Environmentally Rated Loan Program
DBJ initiated its Environmentally Rated Loan Program in 2004 in order to support the environmental efforts of companies.
DBJ Environmentally Rated Loan Program is a loan program utilizing a screening (rating) system developed by DBJ that evaluates enterprises on the level of their environmental management and then sets financial conditions based on these evaluations. This was the world's first incorporation of environmental ratings in financing menus.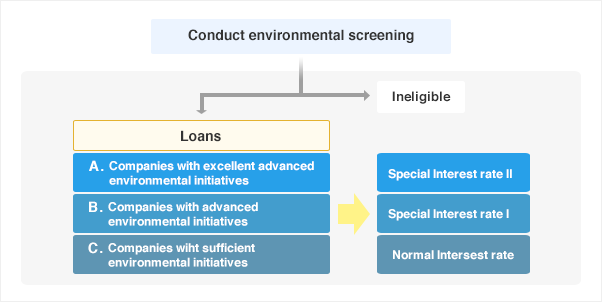 Features
Loans with discounted interest rates according to the Environmental Rating
DBJ evaluates the environmental efforts of corporations and applies three different interest levels based on the result of the evaluation.
Fair and neutral evaluation based on global environmental trends
Every year, DBJ convenes an Environmental Ratings Advisory Committee and renews a screening sheet annually reflecting the international environmental tendencies.
Ratings determined through interviews with clients
DBJ conducts interviews directly with the people in charge.
A lot of evaluation results
Details are here
Applicability to a wide range of clients
Various kinds of industries, from regional medium-sized companies to large companies
Use of Program logo
Companies that are rated under the DBJ Environmentally Rated Loan Program can use Program Logo. They can use the Logo in the websites and the repots they publish.

Services
Procedure
Assessment scheme for environmental ratings
The scheme is twofold: one part covers environmental management, the other sustainability.
The environmental management section focuses on a company's environmental awareness, in terms of its overall management structure and its entire range of business, and the resulting performance data in respect of important environmental issues.
To assess sustainability management, evaluators look at key issues affecting long-term sustainability management and the strategies devised to achieve them, as well as steps taken to promote innovation and human resource development for that purpose. Other items assess KPI and dialogue with stakeholders.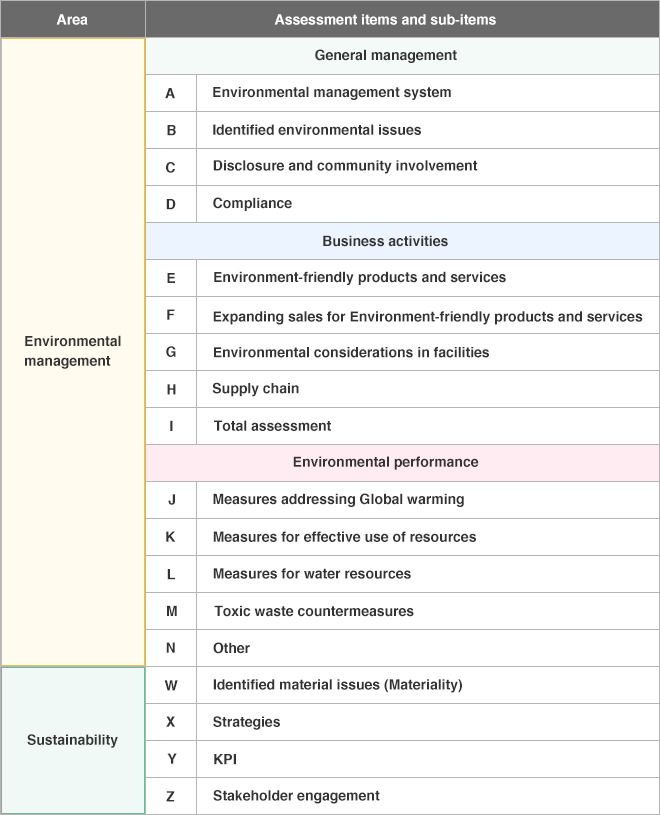 Screening sheets are updated annually by outside experts and the outside authorities on the Advisory Committee to ensure that they incorporate the most recent trends in the field.
Target clients
Domestic clients meeting requirements set by DBJ.
Use of funds
Same conditions as for ordinary loans; no special restrictions
Schedule
Environmental ratings are performed through preliminary screening, interviews and secondary screening.
Preliminary screening, based on research into public information on the company's environmental efforts.
Interviews to acquire undisclosed information.
Secondary screening, with all team members working toward a fair deliberation.
Decision on environmental rating.
Following execution of loan, details of rating delivered to companies specified by clients.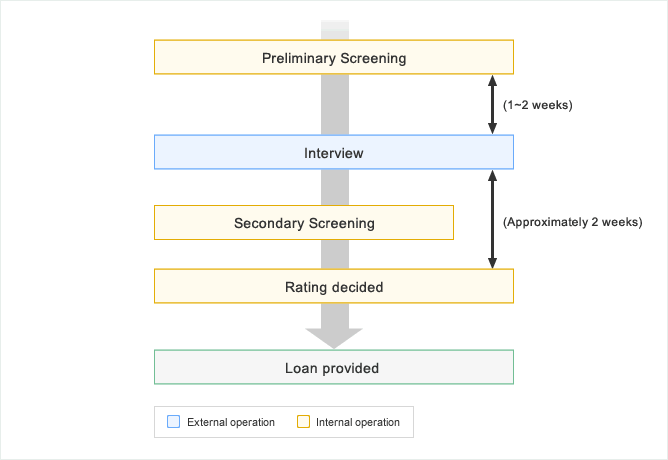 Target clients
Clients who are located in Japan and meet the requirements established by DBJ.
Use of funds
As with ordinary loans, open-ended in principle (except for loans with interest subsidy).
Financing record of the DBJ Environmentally Rated Loan Program
A total of 1 trillion 302.5 billion yen in loans (621 projects), as of March 31, 2018
Awards
2013/10/15

2011/04/20

2009/05/21

2004/11/25