Home > Financial Services > Financing > Certification Programs > DBJ BCM Rated Loan Program
DBJ BCM Rated Loan Program
DBJ became the first in the world to offer an advantageous loan program to companies that took steps toward disaster risk reduction (DRR), business continuity management (BCM) and enterprise resilience.
We are facing new global risks in terms of trends related to climate change, cyber security, new technology, geopolitics and various natural disasters.
DBJ encourages all entities to create a business culture of integrated risk management and multi-stakeholder partnership to build a sustainable and resilient future.
Principle
Applying financial expertise to design a resilient future
About DBJ BCM Rated Loan Program
Features
Loans with discounted interest rates according to the BCM Rating
DBJ evaluates the risk management efforts of corporations and applies three different interest levels based on the result of the evaluation.
Fair and neutral evaluation based on global risk management trends
Every year, DBJ convenes a BCM Ratings Advisory Committee to update its screening sheet, reflecting international DRR and risk management tendencies.
Ratings, determined through interviews with clients
DBJ conducts interviews directly with the people in charge.
Many evaluation results
The details are here.
Applicability to a wide range of clients
The Program covers various industries and company sizes, from regional medium-sized companies to large companies.
Use of Program logo
Companies that are rated under the DBJ BCM Rated Loan Program can use the Program's logo in their publications, including on their websites.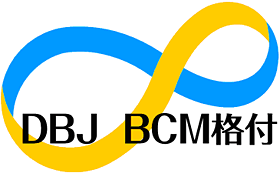 Services
Procedure
Assessment scheme for enterprise resilience ratings
The scheme is divided into two parts: disaster prevention and enterprise resilience.
For disaster prevention, we ask about employee safety protections and legal initiatives. For enterprise resilience, we focus on steps taken as business strategies.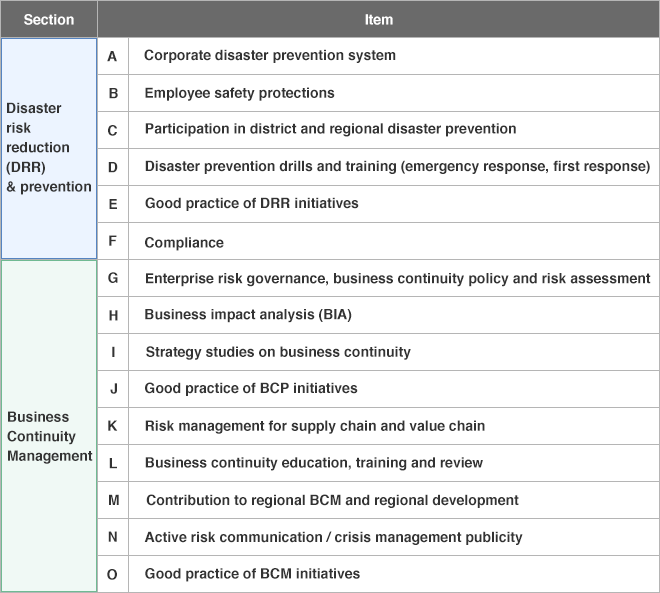 Screening sheets are updated annually by outside experts and outside authorities on the Advisory Committee to ensure that they incorporate the most recent trends in the field.
Target clients
Domestic clients meeting requirements set by DBJ.
Use of funds
Same conditions as for ordinary loans; no special restrictions
Schedule
Assignment of BCM Rating through preliminary screening, interviews and secondary screening
Rating details made available to companies specified by the client, following execution of the loan
Target clients
Clients who are located in Japan and meet the requirements established by DBJ
Use of funds
As with ordinary loans, open-ended in principle (except for loans with interest subsidy)
Record of financing through the DBJ BCM Rated Loan Program
A total of 1 trillion 395.6 billion yen in loans (315 projects), as of March 31, 2018