Home > Financial Services > Investing > Equity > Case Study: Asahi Fiber Glass Co., Ltd.
Case Study: Asahi Fiber Glass Co., Ltd.
A manufacturer of fiberglass since 1956, Asahi Fiber Glass is Japan's leading manufacturer and seller of consumer residential insulation fiberglass. The company leverages its accumulated technology to expand aggressively into new business sectors, including industrial materials.
Recently, group synergies between Asahi Fiber Glass and its parent company, Asahi Glass Co., Ltd., have weakened owing to group companies' increasingly intensive focus on their own businesses. Accordingly, Asahi Fiber Glass has opted to conduct operations independently of the Asahi Glass Group.
The DBJ Initiative
We gave high marks to Asahi Fiber Glass for the quality of its operations, the improvements the company has made to its insulation business, with its positive effects on household energy conservation, its future operating strategy, which leverages the company's sophisticated technologies to drive growth in the industrial materials sector, and its overall business potential. Accordingly, we joined an investment-oriented limited liability group managed by Wise Partners Co., Ltd., to acquire all shares of Asahi Fiber Glass stock.
Going forward, we expect the company's value to grow further, as there are plans for capital participation on the part of both management and employees, so personnel approach their business in an independent and personally motivated manner. We will support their growth with an eye toward the medium and long term, and are working together with the company's employees and management on an IPO.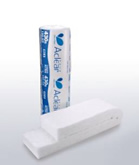 Aquira formaldehyde-free glass wool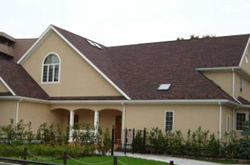 Oak Ridge Pro fiberglass single-layer roofing materials