Home > Financial Services > Investing > Equity > Case Study: UDS Mezzanine Fund
Case Study: UDS Mezzanine Fund
The DBJ Initiative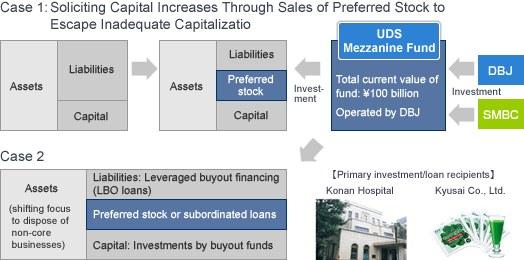 DBJ partnered with Sumitomo Mitsui Banking Corporation (SMBC) to establish a corporate mezzanine fund dealing in such transactions as preferred stock and subordinated loans to corporations.
Mezzanine financing consists primarily of preferred stock and subordinated loans, and as such, is positioned between senior loans and equity. While a need exists for such financing with respect to enterprise business reorganization, the number of providers of capital in such circumstances is limited. We have assembled this fund to arrange corporate mezzanine funds and make a commitment to building the mezzanine financing market.
DBJ manages the fund, conducting transactions that are identified from a wide-ranging network, centering on customers of SMBC. The fund provides support for seamless financing to corporate customers, thereby bridging the gap between investments by private equity funds and bank loans.