Home > Financial Services > Investing > LBOs / MBOs
LBOs / MBOs
Leveraged Buyouts (LBOs)

An LBO is a method of acquiring a company or business using borrowed money. If the business or company that is being acquired generates fixed cash flows, the acquirer (typically, the sponsor providing equity) can purchase the business or company for relatively little cash. For this reason, the borrowed funds are considered the "lever" that multiplies the return on the purchaser's funds, which are constrained. In general, the ability to borrow large funds for this purpose relies on the stability of the cash flow the business generates. So-called buyout funds, which maximize returns by aggressively multiplying their borrowings, use LBOs as their principal acquisition method.

Management Buyouts (MBOs)

MBOs involve the acquisition by existing corporate management of a company's shares or operations. As the existing management team typically has a limited amount of cash available, MBOs generally require that funds be raised to acquired an operation. For this reason, an MBO may take the form of an LBO. In the event that borrowed funds alone are insufficient, the management team may offer equity to a collaborative sponsor, such as a buyout fund or partner.
In recent years, this method has been used more frequently by listed companies that are delisting and to enable the succession of owner-operated companies.
MBO Structure
First Step
Establish new company to serve as the conduit for share acquisition.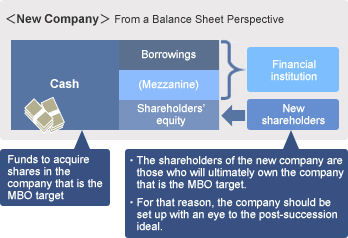 Second Step
The new company accumulates shares from existing shareholders.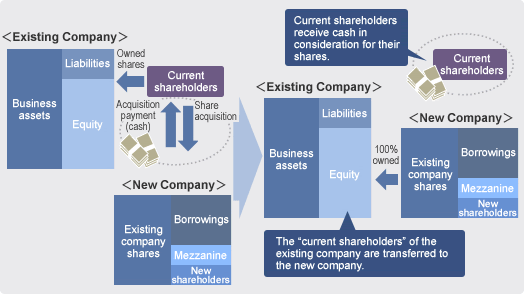 Third Step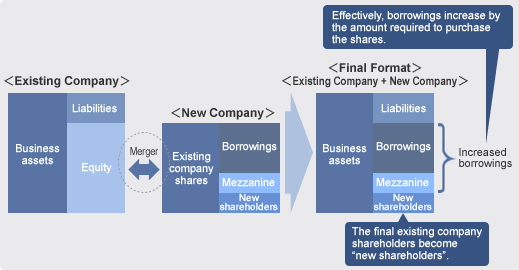 MBO Benefits
Existing wners

Corporate business partners
Realizes profit for the founder

Successors

Enables share transfer with relatively little cash on hand
Allows creation of the ideal shareholder structure

Other shareholders

Provides the opportunity to sell shares that are relatively illiquid

Management team

Prevents shares from being scattered and stabilizes management

Corporate business partners
DBJ's MBO-Related Financing Services
Financial Advisory Business(Financial Advisor)
Basic Roles
As a financial advisor, DBJ ties together all MBO-related details
Specific roles
Consider optimal capital structure
Consider scheme
(operational transfer, etc.)
Support fundraising
(investment, capital injection)
Conclude basic memorandum of understanding
Draft various agreements
Support establishment of new company

Consider business plans
Create basic memorandum of understanding and memorandum of agreement among shareholders
Overall schedule management
Final fundraising
Process concluded agreements
Closing
Investment and Loan business(Lending, Mezzanine, Investment)
Basic Role
Streamline financing, if possible use mezzanine financing with preferred shareholders.
Specific roles
Loans
Mezzanine, Investment

Perform preliminary study and analysis (screening)
Submit letter of intent
Basic loan conditions (term sheet)
Adjust syndicated loan structure (arrange)
Conclude loan-related agreements and execution procedures

Perform preliminary study and analysis (pre due diligence)
Negotiate and adjust investment conditions
Conclude basic agreement between management and core shareholders
Perform core study and analysis (due diligence)
Agreements between shareholders
Conclude and execute investment-related agreements
Case Study
Hoyo no Yado Himi
DBJ formulated an investment and loan scheme using project finance procedures and provided the funds necessary for Hoyo no Yado Himi to purchase the facilities it required and to ensure continuity of business.