Home > Resolving Customer Issues > Strengthening the Financial Base > Capital restructuring
Capital restructuring
Restructuring capital and liabilities can help enhance management governance, and capital costs can be reduced to achieve an optimum capital structure.
DBJ helps address client issues in the ways described below by supporting capital restructuring initiatives.
(Examples)
Address such issues as insufficient owned equity and inheritance tax measures to ensure management stability when business operations are transferred to successors
Expand capital when the impact of existing voting rights percentages is insufficient
Revise current share ownership percentages
Increase capital to strengthen the financial base
Eliminate mismatches between cash flows from operating activities and loan repayment schedules through medium- to long-term financing
Raise funds to achieve a shift from short-term to medium- and long-term financing, thereby stabilizing and improving the financial balance
Stabilize the balance between operating revenue and expenses by putting in place long-term, fixed-rate funding
Take on subordinated debt to raise funding diversity and flexibility
In particular, DBJ utilizes its networks, financial expertise and industry research capabilities to elicit industry-specific information and determine individual clients' specific needs. We then meet these needs by taking approaches such as providing MBO or EBO financing, mezzanine financing, managing equity and other risks, offering medium- to long-term financing and M&A services.
* Business Succession
Business succession refers to the process of a person who became involved at a later stage in a business taking over a business from an existing party. Business succession can be broadly divided into two categories: succession of management rights and succession of property rights.
The succession of management rights raises such issues as successor's ability to select and train personnel while conducting business in a manner that retains the pre-existing corporate atmosphere. The succession of property rights, on the other hand, involves issues such as the valuation and transfer of company shares (purchase and sale, donation, inheritance), as well as the payment of taxes that accompany such transfers (inheritance taxes).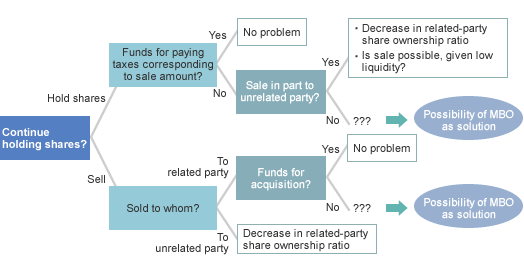 DBJ supports smooth business successions by providing LBO loans for MBOs, financing own-share purchases, and arranging third-party share transfers employing back-financing or using different classes of shares.
Case Study
Asahi Fiber Glass Co., Ltd.
DBJ gave high marks to Asahi Fiber Glass for its future operating strategy to drive growth in the industrial materials sector, and its overall business potential. Accordingly, we joined an investment-oriented limited liability group to acquire all shares of Asahi Fiber Glass stock.

Isuzu Motors Ltd.
We formed the Isuzu Motors Fund. The fund's objectives are to provide medium- to long-term term support for Isuzu's organization, and to increase both its growth and its investor value.

UDS Mezzanine Fund
Mezzanine financing consists primarily of preferred stock and subordinated loans. While a need exists for such financing with respect to enterprise business reorganization, the number of providers of capital in such circumstances is limited. We have assembled this fund to conduct corporate mezzanine funding and make a commitment to building the mezzanine financing market.