Home > Resolving Customer Issues > A Sustainable Social Structure > Disaster Recovery > Case Study: Mid Niigata Prefecture Earthquake of October 2004
Case Study: Mid Niigata Prefecture Earthquake of October 2004
At the time of the Mid Niigata Prefecture Earthquake of 2004, which devastated much of the Chuetsu region, DBJ furnished earthquake recovery funds to Hokuriku Gas Co., Ltd., Echigo-Kotsu Bussan K.K. and Echigoseika Co., Ltd., all of which have a major impact on the regional infrastructure and economy.
All three companies achieved early recovery as a result of their swift and precise response, but only at the expense of unexpected losses, which were provided for through DBJ accommodation loans.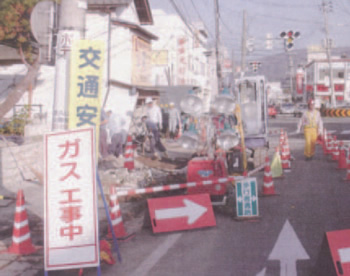 Company Outlines/Extent of Damage
Hokuriku Gas Co., Ltd. supplies the clean energy indispensable to lifestyles in Niigata, Nagaoka and other cities. Damage was sustained to the company's gas distribution facilities on the east side of the Shin-Etsu Line (Japan Railways) in the city of Nagaoka.
Echigo-Kotsu K.K. supports the regional transportation infrastructure of the Chuetsu region, by providing core bus services. The bus offices in the cities of Nagaoka and Ojiya and facilities in Echigokawaguchi Service Area on the Kan-Etsu Expressway were seriously damaged.
Echigoseika Co., Ltd., is a leading rice confectionery manufacturer in Niigata Prefecture. Many of its production facilities, including its main factory in the city of Ojiya, were damaged by the earthquake.