Development Bank of Japan Inc. (DBJ ; President & CEO: Toru Hashimoto), alongside Japan's Government Pension Investment Fund (GPIF), located in Tokyo and headed by Takahiro Mitani, launched a program of infrastructure investments under a co-investment agreement with the Ontario Municipal Employees Retirement System of Canada (OMERS). The investments will be made through a unit trust as suitable investment opportunities are identified.

Investments in such infrastructure fields as in power generation, electricity transmission, gas pipelines and railways are expected to generate long-term stable revenue from usage fees and other sources. Long-term investors can benefit from stable income gains, similar to fixed incomes in terms of cash flow profiles; higher yields than those from typical fixed incomes; and lower vulnerability to public market volatility. As it is expected to contribute to the stability of pension finance in combination with fixed income and equity investments, investment in infrastructure is among the most valuable forms of investment for overseas pension funds.

GPIF has conducted a series of studies on infrastructure and other alternative assets. The survey "Research on Alternative Investment Schemes," carried out in 2012, suggested that


 (1)
the investments enable GPIF to capture liquidity premium and benefit from diversification effect to its portfolio;
 (2)
it is conceivable for GPIF to have the exposure through investing in a unit trust structured to invest in the assets; and
 (3)
it is worth considering for GPIF to liaise with experienced institutional investors at home and abroad in order to leverage their investment capabilities and learn from their expertise.
With the aforementioned background, GPIF has entered into a co-investment agreement with DBJ and OMERS, as institutional investors with a wealth of experience in infrastructure investment, in order to jointly invest in infrastructure assets such as power generation, electricity transmission, gas pipeline and railways in developed countries. DBJ and GPIF will have exposure to those infrastructure assets sourced by OMERS through a unit trust.

As suitable investment opportunities are identified, DBJ and GPIF will invest an aggregate 2.8 billion US dollars (290 billion Japanese yen) over a 5-year period.

DBJ's corporate philosophy is to "design the future through innovative finance." Using creative financing techniques, DBJ is committed to working with customers to resolve their problems, earn their trust and build a prosperous future. In line with these principles, DBJ looks forward to working with GPIF to enhance its management of pension funds.


< Summary of Infrastructure Co-Investments >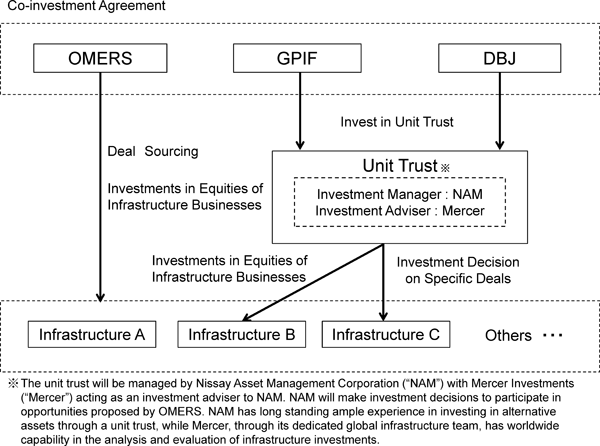 Inquiries:
Public Relations & Corporate Social Responsibility Office,
Corporate Planning & Coordination Department
Telephone: +81-3-3244-1180