Home > Financial Services > Advisory Services > The Women Entrepreneurs Center (DBJ-WEC)
The Women Entrepreneurs Center (DBJ-WEC)
DBJ-WEC What's New
2016/06/21

DBJ has announced the finalists and winners for the 5th New Business Plan Competition for Women Entrepreneurs (PDF, 431KB)

2016/02/26

2015/12/15

DBJ to Hold 5th New Business Plan Competition for Women Entrepreneurs Winners Will Receive up to 10 Million Yen in Prize Money and Mentoring Support; "DBJ Women Entrepreneurs Incentive Prize" Added to Awards

2015/6/22

DBJ has announced the finalists and winners for the 4th New Business Plan Competition for Women Entrepreneurs (PDF, 421KB)

2015/03/02

2014/12/15

2014/11/20

DBJ to Hold 4th New Business Plan Competition for Women Entrepreneurs - Winners Will Receive up to 10 Million Yen in Prize Money and Mentoring Support and the new DBJ Women Entrepreneurs Prize for Innovative Regional Growth-

2014/06/19

DBJ announced the finalists and the winners at the award ceremony of the 3rd DBJ New Business Plan Competition for Women Entrepreneurs (PDF, 129KB)

2014/02/28

2013/12/16

2013/11/13

DBJ to Hold 3rd New Business Plan Competition for Women Entrepreneurs --- Winners Will Receive up to 10 Million Yen in Prize Money and Mentoring Support ---

2013/06/24

DBJ announced the finalists and the winners at the award ceremony of the 2nd DBJ New Business Plan Competition for Women Entrepreneurs (PDF, 178KB)

2013/02/28

2012/12/25

The 2nd DBJ New Business Plan Competition for Women Entrepreneurs:Announcement of Application Guidelines and Judges for Final Review

2012/12/14

2012/07/11

The project of Women's \10M Entrepreneurship Competition was on air and featured on Close-Up Gendai, a famous NHK program on Wednesday, July 11, 2012.

2012/06/19

DBJ announced the finalists and the winners at the award ceremony of Women's \10M Entrepreneurship Competition on June 19, 2012 (PDF, 307KB)

2012/06/04

The entire selection process of the competition was completed. Winners will be announced on Tuesday, June 19, 2012.

2012/03/14

Call for the Executive Summary & the Business Plan was closed.

2012/03/09

The application was closed. Submission deadline of Executive Summary and Business Plan is 5:00 p.m., March 14 (Wednesday), 2012.

2012/01/19

Please note that application materials should be sent by email only. We cannot accept materials sent by post or other means

2011/11/28

2011/11/11
What is the DBJ-WEC?
Woman power will change the Japanese economy.
With a shrinking workforce caused by a stagnating economy and an ageing population, compounded by the many challenges of rebuilding from the 3.11 2011 disaster, Japan is increasingly looking to its most underused resource: women.
Women entrepreneurs with new perspectives can be the driving force behind Japan's renewed growth, bringing needed change to the economy and society as a whole. In November 2011, DBJ launched the DBJ-WEC to support women in their efforts to establish new businesses. Motivated women entrepreneurs will be able to obtain comprehensive support in areas including funding, and start-up expertise.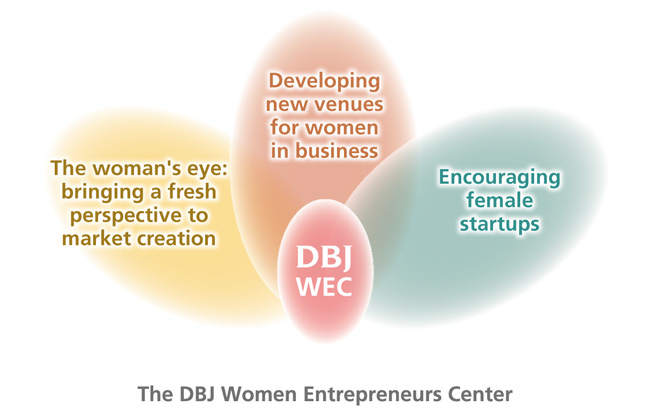 Secretariat
DBJ Women Entrepreneurs New Business Plan Competition
DBJ Women Entrepreneurs Center (DBJ-WEC)
Telephone: +81-3-3244-1652