Home > Financial Services > Advisory Services > The Women Entrepreneurs Center (DBJ-WEC)
The Women Entrepreneurs Center (DBJ-WEC)
DBJ-WEC What's New
2016/06/21

DBJ has announced the finalists and winners for the 5th New Business Plan Competition for Women Entrepreneurs (PDF, 431KB)

2016/02/26

2015/12/15

DBJ to Hold 5th New Business Plan Competition for Women Entrepreneurs Winners Will Receive up to 10 Million Yen in Prize Money and Mentoring Support; "DBJ Women Entrepreneurs Incentive Prize" Added to Awards

2015/6/22

DBJ has announced the finalists and winners for the 4th New Business Plan Competition for Women Entrepreneurs (PDF, 421KB)

2015/03/02

2014/12/15

2014/11/20

DBJ to Hold 4th New Business Plan Competition for Women Entrepreneurs - Winners Will Receive up to 10 Million Yen in Prize Money and Mentoring Support and the new DBJ Women Entrepreneurs Prize for Innovative Regional Growth-

2014/06/19

DBJ announced the finalists and the winners at the award ceremony of the 3rd DBJ New Business Plan Competition for Women Entrepreneurs (PDF, 129KB)

2014/02/28

2013/12/16

2013/11/13

DBJ to Hold 3rd New Business Plan Competition for Women Entrepreneurs --- Winners Will Receive up to 10 Million Yen in Prize Money and Mentoring Support ---

2013/06/24

DBJ announced the finalists and the winners at the award ceremony of the 2nd DBJ New Business Plan Competition for Women Entrepreneurs (PDF, 178KB)

2013/02/28

2012/12/25

The 2nd DBJ New Business Plan Competition for Women Entrepreneurs:Announcement of Application Guidelines and Judges for Final Review

2012/12/14

2012/07/11

The project of Women's \10M Entrepreneurship Competition was on air and featured on Close-Up Gendai, a famous NHK program on Wednesday, July 11, 2012.

2012/06/19

DBJ announced the finalists and the winners at the award ceremony of Women's \10M Entrepreneurship Competition on June 19, 2012 (PDF, 307KB)

2012/06/04

The entire selection process of the competition was completed. Winners will be announced on Tuesday, June 19, 2012.

2012/03/14

Call for the Executive Summary & the Business Plan was closed.

2012/03/09

The application was closed. Submission deadline of Executive Summary and Business Plan is 5:00 p.m., March 14 (Wednesday), 2012.

2012/01/19

Please note that application materials should be sent by email only. We cannot accept materials sent by post or other means

2011/11/28

2011/11/11
What is the DBJ-WEC?
Woman power will change the Japanese economy.
With a shrinking workforce caused by a stagnating economy and an ageing population, compounded by the many challenges of rebuilding from the 3.11 2011 disaster, Japan is increasingly looking to its most underused resource: women.
Women entrepreneurs with new perspectives can be the driving force behind Japan's renewed growth, bringing needed change to the economy and society as a whole. In November 2011, DBJ launched the DBJ-WEC to support women in their efforts to establish new businesses. Motivated women entrepreneurs will be able to obtain comprehensive support in areas including funding, and start-up expertise.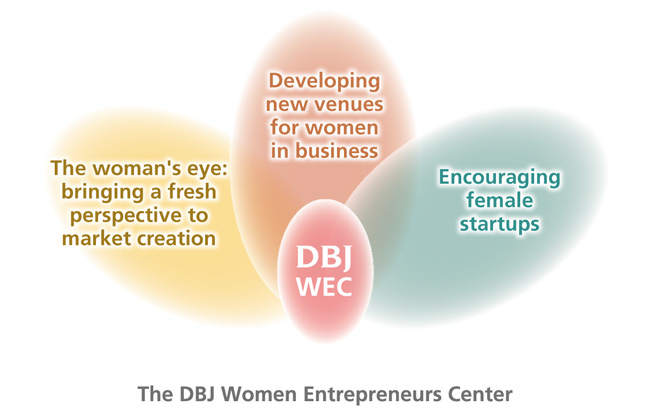 The 5th New Business Plan Competition for Women
Each year, DBJ holds the New Business Plan Competition for Women, aimed at supporting women launching innovative, viable new businesses with strong development potential. Winners receive business incentive prizes of up to 10 million yen.
To maximize the winners' chances of success, outside entrepreneurs and other experts provide mentoring in business plan improvement and other skills required to get their projects off the ground.
Eligible projects
The competition invites business plans from women-led start-ups. These must feature original technologies, services, and/or business models, promise high added value, and have the potential to develop into viable commercial enterprises.
To be eligible, business plans must aim for start-up to take place within 5 years. (This also applies to "second start-ups" achieved by modifying an existing business or launching a new one.)
Schedule
Application
Application period
December 15 (Tuesday), 2015 – 5 p.m. February 26 (Friday), 2016
Judging
1st selection (document inspection)
Mid-February, 2016 – Mid-March, 2016
2nd selection (interview)
Mid-March, 2016 – Mid-April, 2016
Final selection
June 2 (Thursday), 2016
Announcement of results
Announcement of winners
Late June, 2016
Mentoring and support
Business support
From August, 2016
How to apply
Fill out the Application Form and press "Submit." Applications will be accepted starting December 15.
Submit an Executive Summary (Word, 37KB; form provided) and a Business Plan by email.
For details, please see the Application Guidelines (PDF,445KB). Note that the PDF file may take some time to load.
Prizes
Four prizes will be given: the DBJ Women Entrepreneur Grand Prize, the DBJ Women Entrepreneur Prize, the Prize for Innovative Regional Growth, and the DBJ Women Entrepreneurs Incentive Prize. Winners will receive business incentive funds – up to 10 million yen for the Grand Prize winner – and one year of mentoring to maximize their chances of success.
Secretariat
DBJ Women Entrepreneurs New Business Plan Competition
DBJ Women Entrepreneurs Center (DBJ-WEC)
Telephone: +81-3-3244-1652