Home > Resolving Customer Issues > A Sustainable Social Structure > Healthcare
Healthcare
Part of DBJ's mission is to maintain and improve the quality of Japan's medical and health care in terms of access, cost and technological levels. Our activities, spanning finance, business consulting and information dissemination, are outlined below by sector.
Activities by sector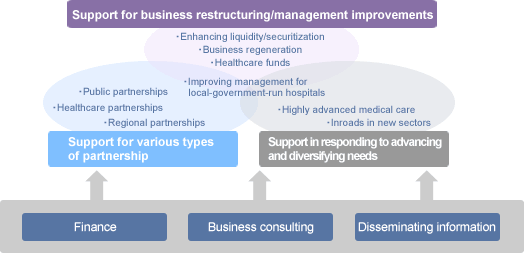 Case Study
Support for business restructuring/management improvements
We carried out financial restructuring by taking hospitals off the balance sheet, fee-based nursing homes and other facilities utilizing enhanced liquidity/securitization SPC.
JR Sapporo Hospital
DBJ acted as co-arranger in constructing a stable scheme under which local area financial institutions established senior loans and DBJ executed a mezzanine loan.

Improving management for local-government-run hospitals
Through the following measures, DBJ is supporting management improvements for local-government-run hospitals.
Reporting/holding seminars
Collaboration with the International University of Health and Welfare
Guidance and project support for improvements to management for individual hospitals
Support for Partnerships
Public Partnerships
DBJ provides support for transfer of business control to private operators for regional medical institutions.