Human Resource Development
Basic Policy
To steadily implement the DBJ Group's value creation process, which aims to create both economic and social value, and to realize Vision 2030, our long-term vision for our future, it is imperative for us to nurture excellent employees who can implement the distinctive business models of the DBJ Group, including its integrated investment and loan services.
To this end, we think it is important to create structures in which employees will be highly motivated. Improving the value of human capital is one of our most important priorities, and DBJ is taking concrete steps to achieve this goal.
Human Resource Development Vision
DBJ's role has evolved and developed substantially to meet the needs of the times. DBJ considers such innovation crucial to maintaining its leadership position in the constantly advancing field of finance.
To develop its all-important human resource assets, DBJ encourages autonomous and pioneering behavior in its employees as financial professionals in keeping with the vision of "generalists who can be specialists in many fields." While it is important to acquire specialist knowledge, responding to society's constantly changing needs also requires broad experience, deep knowledge, and the ability to see the big picture. We continue to build a wide variety of systems based on this philosophy.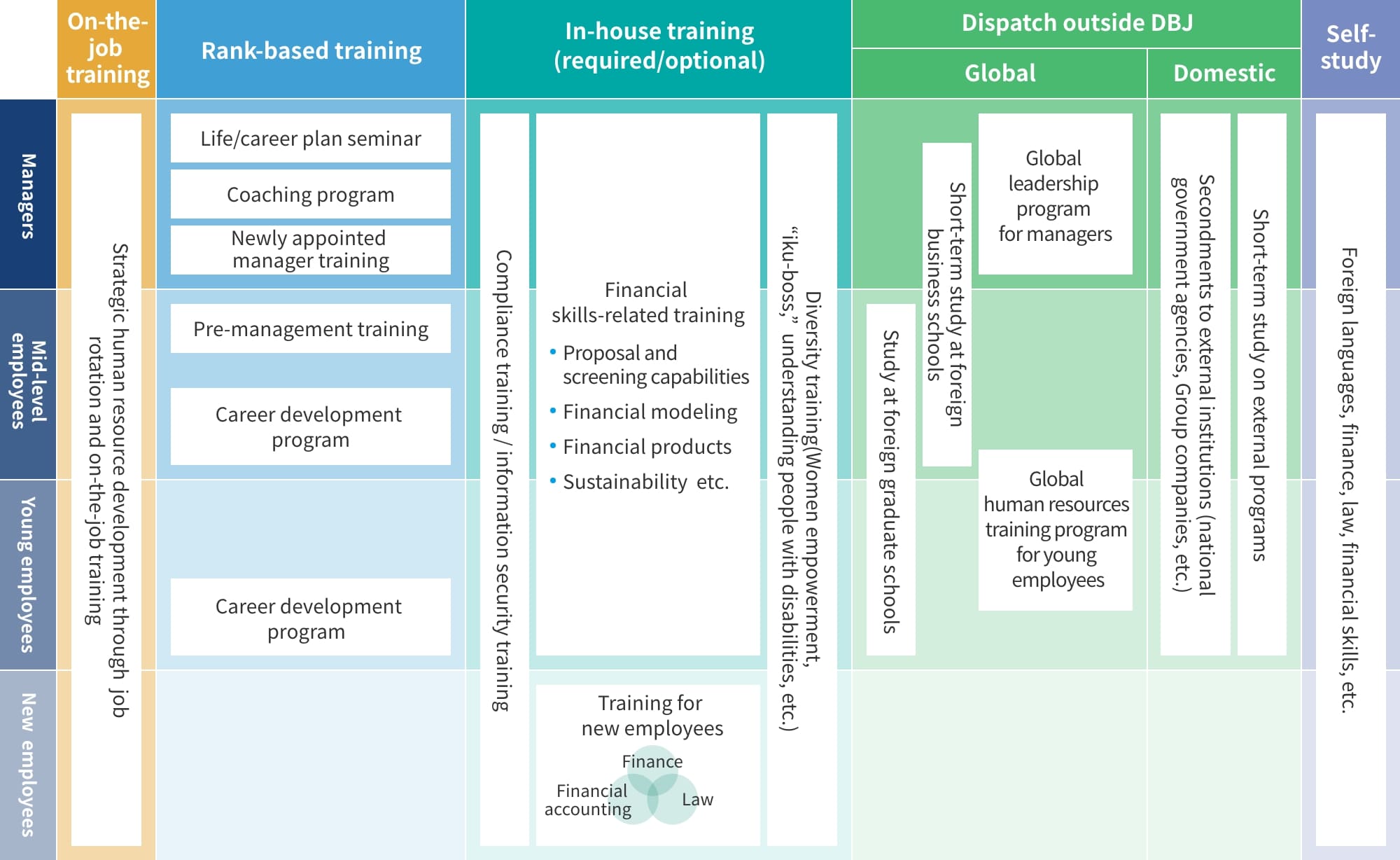 Specific Initiatives to Increase the Value of Human Capital
Intensification of the Hiring and Exchange of Human Resources across the DBJ Group
DBJ will strengthen its hiring processes and practices and secure the personnel necessary across the entire Group to implement its sector strategy, function strategy, and area strategy.
The DBJ Group will also work to further disseminate its longterm vision, Vision 2030, and its value creation process by strengthening the exchange of human resources across the DBJ Group.
Skills Development
The DBJ Group develops human resources through practical on-the-job training and extensive training opportunities.
Employees are strategically rotated so that they steadily develop highly specialized skills by gaining practical and diverse experience and broad perspectives in multiple departments and outside institutions.*
* Dispatch employees to national government agencies, Group companies around the world, and companies that have received investments
New college hires receive thorough growth assistance with approximately three months of DBJ's own accounting and financial analysis courses, and a full year of new employee training programs.
An extensive skills development program, in terms of both quality and quantity, is available for employees that provides rank-based training for required subjects whenever necessary, along with supplementary programs for self-improvement in addition to work-related training.
Opportunities to study abroad at overseas universities and training systems are made available for developing global human resources. DBJ also operates its own leadership training program (entirely in English) in collaboration with top overseas universities for young employees and management-level employees.
DBJ supports Human resource development with physical facilities: for example, the newly constructed Minami Aoyama Training Center.
Diversity Management and Productivity Improvements
To promote workplaces where diverse human resources can work together, DBJ encourages mutual understanding and takes steps to improve the productivity of each employee.
DBJ aims to enhance its work and leave systems for childrearing and elderly care, such as telecommuting, reduced work hours, and flex time, in addition to holding seminars guided by experts for finding and enrolling in facilities for childcare and elderly care.
DBJ creates and distributes a guide to balancing work with child-rearing and elderly care, and holds "iku-boss" seminars for members of management to enable them to support employees using these systems while improving team productivity. DBJ also holds seminars for furthering understanding of people with disabilities and promotes the building of cooperative relationships among staff, including employees who use these systems.
DBJ set up the Work Shift Promotion Headquarters with the intention of increasing work efficiency from a work shift standpoint and promoted awareness reforms and related initiatives across the Group.
DBJ supports the physical and mental well-being of its officers and employees with courses about coping with stress and managing sleep, as well as by offering a counseling system staffed by outside professionals, in addition to periodic health checkups.
Motivation and Engagement
We constantly ask ourselves if we have laid the proper foundation for genuinely motivating officers and employees to take the initiative in accordance with the DBJ Group's corporate philosophy.
DBJ conducts engagement surveys for employees, evaluates the results of these surveys, and creates action plans that enable each department to increase motivation through improvement activities.
In training about career formation, DBJ creates opportunities for furthering understanding of its corporate philosophy and constructive dialogue about improvements and practical approaches.
Employees' Use of Childbirth and Child-Rearing Support Systems, Number of Employees in Training Courses
| | |
| --- | --- |
| Ratio of employees returning to work after taking childcare leave (number of employees having completed childcare leave in fiscal 2018) | 22/24 (92%) |
| Rehiring system (number of registrants as of March 31, 2019) | 32 |
| Reduced work hours and flex time for employees raising children | 120 |
| "Iku-boss" training participants (cumulative total) | About 200 |
| Seminars for finding childcare facilities (cumulative total) | About 150 |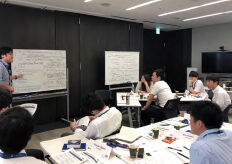 Internal training